Canopy Tent Rental Green Bay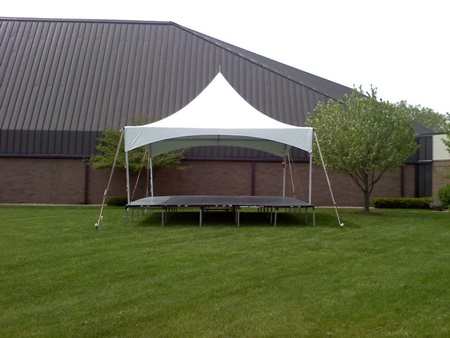 Canopy Tent and Stage Rental for Event in Green Bay, Wisconsin
This high-peaked canopy tent and the riser stage underneath was the setting for an outdoor performance by the school's jazz band. Although not in this photo, the school also chose to rent a portable power generator for the amplified instruments in the ensemble.
The great thing about these smaller canopy tents is the total lack of any inside poles and the minimal staking required to secure them in place. With many of our smaller tents, set up is so easy you can do it yourself with just one or two helpers. We need to set up the riser stages for you, though, to ensure everything is safe for those who will be standing on the stage.
These smaller sized tents are great choices for backyard events, too. In fact, we offer several packages based around these smaller sized tents. Be sure to check out our Wedding Tent Packages, Graduation Party packages and Build Your Own Party Packages.
Fox Cities Party Rental rents:
Fox Cities Party Rental serves all of the Fox Valley region, including the following cities:
Appleton, Chilton, De Pere, Grand Chute, Green Bay, Greenville, Kimberly, Kaukauna, Little Chute, Menasha, Neenah, New London, Stockbridge, Winnebago, Winneconne, Wrightstown