Green Bay Wedding Reception Tent Rental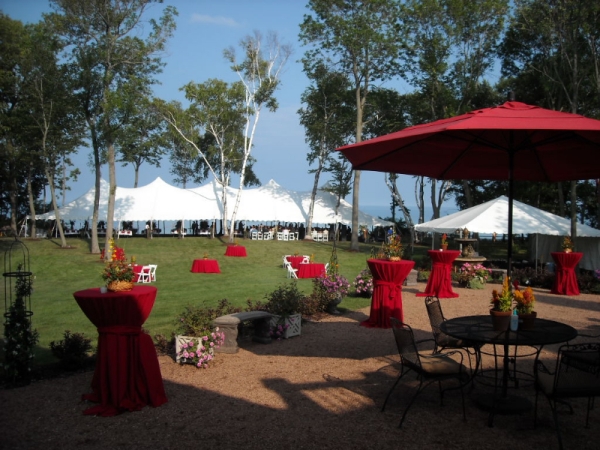 Wedding Reception Tent Rental On Picture-Perfect Site
If you look closely at this photo from a wedding reception in Green Bay, you may spot something odd. Look at the right side of the large (40' x 120') white wedding tent in the background. Now do you see it? There's a tree trunk poking through the top of the tent!
At this particular wedding, everything about the lake view location was perfect except for one uncooperative tree. Since the homeowners weren't exactly thrilled about cutting the tree down, our crew came up with an ingenious workaround: Opening the tent at one of the seams just enough to allow the tree to poke through. (No word on whether the newyleds carved their initials on the trunk or not.)
Besides providing rental tents for wedding receptions in Green Bay and all of southeast Wisconsin, we also rent tables and chairs, linens, china and silverware, dance floors and stages, and just about anything else needed for an outdoor tent event. Yes, even bouncy house rentals for children's birthday parties.
Not sure what size tent you need for your event? Check out our event Planning Guide for advice and tips on choosing a tent. And if you have any questions, feel free to call us at the location nearest you or use our online contact form to get in touch.
Fox Cities Party Rental rents:
Fox Cities Party Rental serves all of the Fox Valley region, including the following cities:
Appleton, Chilton, De Pere, Grand Chute, Green Bay, Greenville, Kimberly, Kaukauna, Little Chute, Menasha, Neenah, New London, Stockbridge, Winnebago, Winneconne, Wrightstown
Call us at 920-733-1166