New Year's Eve Party Tent Setup Oshkosh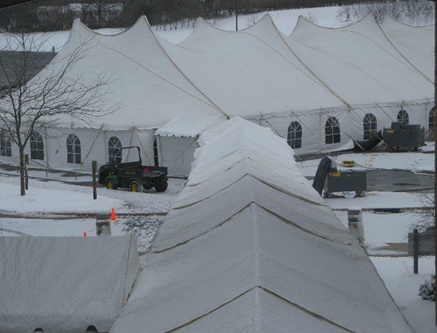 Winter tent setup for New Year's Eve party in Oshkosh.
Here's another view of a large pole tent we set up for a New Year's Eve party. In this photo, you can see the row of canopy tents we set up in a line to connect the tent to the church that was hosting the festivities. This provided guests a sheltered walkway to enter and exit the party tent. Also, you may have noticed the rather large container of LP gas in front of the tent in another photo. With a tent of this size, an amply supply of fuel was necessary for the 4 heaters we had running.
If you're hesitant about having a party tent event in the middle of winter, we hope this photo will give you some reassurance that it actually is possible--and no one will suffer frostbite. You can learn more about what's involved with winter tent events in our article "How to Pull Off a Successful Winter Tent Event." In addition to event tents of all sizes, we also rent heaters for tents, dance floors, tables and chairs and pretty much anything you might need for your event.
Let us know what you're planning and we'll be happy to make recommendations and hlep you decide how to equip the tent for your event.
Contact our Appleton Party Rental location for more information on party tent rentals.