Oshkosh Wedding Tent Rental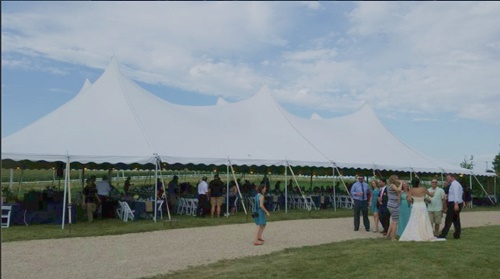 Oshkosh Wedding Tent Rental
Here's a frame tent rental we set up for a wedding reception in the beautiful countryside just outside of Oshkosh. We even got the bride in this photo!
If this photo seems somehow familiar, it may be because it's one of the photos on our home page—only it's a nighttime photo. In that shot, you'll see a string of lights illuminating the inside of the tent. Those would be our globe lights. One of the great things about a frame tent is that you can easily string lights along the support trusses that run along the inside edges of the tent. That's exactly what we did with this tent.
Whether you need a moderately sized frame tent like this one, or a much larger pole tent capable of fitting 200 guests, our Fox Cities Party Rental location has a tent just right for any size event. And, of course, all the tables and chairs, linens and flatware, catering equipment, and dance floors and stages you could possibly need.