Party Tent Rental In Neenah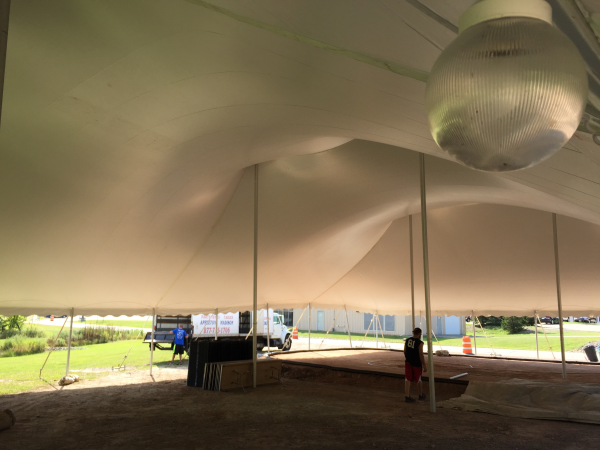 Neenah Festival Tent Rental
Here's a rare glimpse under a large pole tent as it was being set up for an outdoor festival in Neenah. As you can see, the support poles are in place, the staking along the perimeter is all done, and the crew is setting up a stage where a band was to perform. Well, it was either that or a brat eating competition.
If you are planning a massive outdoor festival and wondering where you can find event tents, Fox Cities Party Rental comes highly recommended. We have provided party tents for all kinds of events throughout Wisconsin. Besides tents, we also have tables and chairs, food service equipment, bounce houses and just about everything else you might need for an outdoor party or festival. We deliver the tents and set them up at your site, then take them down the day after your event.
Incidentally, in case you're wondering about the large silver ball in the upper right of the photo—it's not a disco ball. It's actually a globe light and it's only about 9 inches in diameter. It just looks like an enormous disco ball because it's in the foreground of the photo. Our globe lights are powered by either a generator (yes, we rent them, too) or a long extension cord running to an electric outlet. If your event will run into the evening hours, we highly recommend lighting.
Are you planning an event in Neenah, Appleton or the Oshkosh area? Get in touch with Fox Cities Party Rental today for all your event necessities.
Contact Fox Cities Party Rental now for information on rental items.