Winter Party Tent Rental In Oshkosh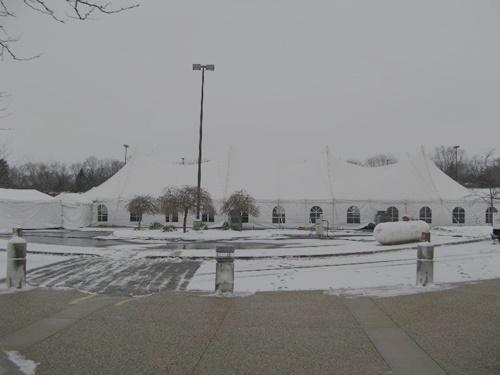 Oshkosh New Year's Eve Winter Tent Rental
It was a grey and dreary winter day, but inside this enormous 40' x 120' pole tent the atmosphere was lively and colorful come New Year's Eve. Thanks to two 80,000 BTU heater rentals, it was also plenty warm inside.
While most tent parties take place in warm weather months, an outdoor tent event can also be held over the winter with the addition of sidewalls and heaters. We have set up tents for parties, wedding receptions and festivals scheduled for cold weather months, and the results have been spectacular. We even offer three Winter Tent Party packages.
If you are considering renting a party tent for a winter event, we can help you determine what type of heaters and how many will be best suited for the size of tent you're planning to rent. You can contact us online, or give a call to our Fox Cities Party Rental, Brookfield Party Rental, or Madison Party Rental location—whichever is nearest you.