Frame Tent Rental In De Pere Garden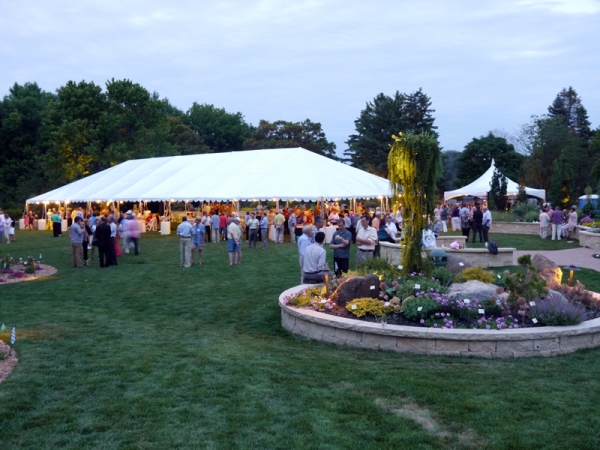 40x100 Frame Tent
Frame Tent Rental In De Pere Garden
Sometimes, after we've set everything up for an event and are about to head out, we'll stop to grab a quick photo. On this particular evening, we couldn't help but wish we had been on the guest list. The fabulous location in a beautifully landscaped yard in De Pere, a near perfect early summer evening, and a buffet table loaded with all kinds of goodies…sigh.
As you'll see in the above photo, in addition to the large 40 x 100 frame tent we also provided a smaller 20 x 20 canopy tent, which sat off to the side. Of course, we also provided the table and chair rentals, lighting, generator, and a bar rental. The hosts were thrilled with our fast, professional setup and takedown.
Planning an event which will require a party tent in the Green Bay area? A wedding, perhaps? You might want to browse our Party Packages section. Here we outline our wedding reception party tent rental packages, graduation party packages and "Build Your Own" packages. All these tent rental packages include the basics—a tent, tables and chairs—based on the number of guests you'll be inviting. From there, you can add on extras from our Products pages.
Fox Cities Party Rental rents:
Fox Cities Party Rental serves all of the Fox Valley region, including the following cities:
Appleton, Chilton, De Pere, Grand Chute, Green Bay, Greenville, Kimberly, Kaukauna, Little Chute, Menasha, Neenah, New London, Stockbridge, Winnebago, Winneconne, Wrightstown
Call us at 920-733-1166