Stage and Dance Floor Rentals
Rent Indoor or Outdoor Stages and Dance Floors for Wedding Receptions, Corporate Events and Parties
At virtually every event, two areas seem to draw the attention of guests even more than buffet tables groaning under the weight of gleaming steel chafing dishes: the stage and the dance floor. In these two areas some of the greatest (and often funniest) dramas of humanity are played out. Frankly, one would be remiss to even contemplate an event which omits either, although the more buttoned-down variety of corporate events can probably forgo a dance floor.
Staging
MadFoxParty offers a variety of choices for stages, from a simple elevated platform for the guest of honor to deliver a speech to multi-tiered stages large enough to accommodate an orchestra. We can also outfit your stage with carpeting and provide the steps, ramps and guardrails so helpful for getting people onto the stage and for keeping them from falling off—something to consider if you opt for a 3' high stage.
Staging: 4′x4′ sections can be built at 6″, 12″, 24″, 30″, and 36″ heights.
Optional accessories include: Stairs, Skirting, Railing, Carpet
Dance Floors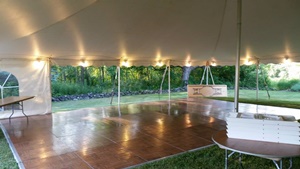 MadFoxParty offers both an outdoor/indoor dance floor and an indoor-only dance floor. The outdoor floor is comprised of 3' by 4' squares of plywood with a vinyl parquet top. This floor has been proven to withstand the ravages of unexpected downpours, spilled drinks, stiletto heels and even the most vigorous interpretations of Irish-style stomp dancing. The indoor-only floor comes in 3' by 3' sections of wooden parquet tiles which snap together to form an attractive floor suitable for everything from dignified waltzing to letting it all hang out.
Indoor/Outdoor Dance Floor: 3′x4′ sections. Plywood with vinyl parquet top.
Indoor Dance Floor: 3′x3′ snaplock sections
Can You Use A Dance Floor As Flooring For The Entire Interior Of A Tent?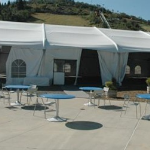 Interesting question. While this is theoretically possible, it wouldn't be very cost-effective. If what you're after is solid flooring under your tent, a far better solution is to rent a few rolls of PortaFloor. It comes in a large roll and, you guessed it, rolls out to create a floor on top of grass or pavement. You'll find it in our Tent Accessories page.
Contact our Wisconsin event rental staff for more information on stage and dance floor rentals for your Milwaukee, Fox Cities or Madison area event.