Tent Accessory Rentals
Make Yourself Comfortable
Rent Lighting, Generators, Heaters and Fans for Your Canopy Tent Event
By their very nature, event tents cannot possibly provide all the comforts of home. However, a judicious deployment of power generators, heaters and fans will make your tent a thoroughly enjoyable setting for a wedding reception, anniversary party, auction or any soiree you envision.
Our Brookfield, Madison and Fox Cities party rental stores offer 6000 watt and 7500 watt portable generators. These are gasoline-fueled generators which run for about 7 hours on one tank of gas. One of these is usually sufficient to power the lights and appliances for most tents. If you are planning to add a couple of inflatable bounce houses, you'll need a dedicated generator to run the air compressor for them.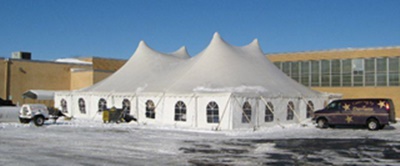 If your event will take place during colder months, a tent heater (or two) will keep frostbite from setting in. Seriously, no one wants to attend a wedding reception which becomes the Donner Party. Besides 80,000 and 170,000 BTU tent heaters, we also have a 40,000 BTU patio heater. (Incidentally, "BTU" does not stand for "Better Turn it Up!" It's actually an acronym for British Thermal Unit.)
For warm weather events, maintaining air flow through the tent is essential. Our pedestal fans have been proven far superior to native Polynesian women waving large palm fronds, though perhaps not quite as attractive. If you need help determining how many fans, heaters and generators for your tent, as we suspect you will, we are happy to assist.
Generators:
6000 Watt Generator
7500 Watt Generator
Heaters:
80000 Btu Tent Heater
170000 Btu Tent Heater
Zubri Patio Heater 40000 Btu
Contact our Wisconsin tent rental experts for event tents and accessories in the Madison, Fox Cities and Milwaukee area.