Tables & Chairs
Let's Table This Discussion.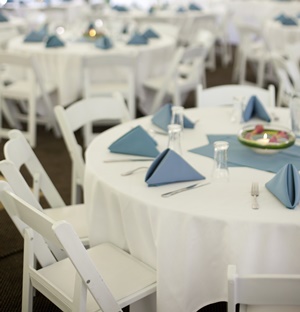 Have you ever attended a wedding reception where guests in formal attire sat on the ground? Have you ever been to a graduation party or anniversary celebration or, for that matter, any type of social gathering where the hosts did not provide tables and chairs?
Of course not!
Tables and chairs play a critical role in any social gathering taking place under a party tent. Namely: They provide a place for guests to sit and eat without fear of being tripped over or being attacked by ants and other foraging insects.
Fortunately, our Brookfield, Madison and Fox Cities Party Rental Store all have ample quantities of tables and chairs to accompany our Wisconsin party tent rentals.
Currently, we offer 8 chair styles and a nice variety of rectangular banquet tables, round dining tables, Hi-Boy tables (aka Cocktail tables) and conference tables. Our conference tables are offered with either laminate or wood tops, while the dining and banquet tables are all wood-topped and designed to be used with table linens. Table sizes range from a seating capacity of 4 to 6 up to sizes which will accommodate up to 10.
If you are purchasing one of our Wisconsin wedding reception packages, or any other package, you may add on as many extra tables or chairs as you anticipate needing. If you just need tables and chairs, please email us with the number of tables and chairs you'll need so we can give you a quote.
While you are looking into renting tables and chairs, bear in mind we also rent table linens and disposables for Wisconsin party tent events. If your event involves food and drink, you'll also want to take a look at our china, flatware and glassware rentals.
Chair styles available for rent:
Contact our Wisconsin party tent rental specialists for event tents and tent necessities throughout the Madison, Fox Cities and Milwaukee area.