Party Animals Agree: Our Party Rentals Rule!
While many of the events our customers host are so epic they are only spoken of in hushed tones with a "you just had to be there" footnote, we often receive heartfelt notes of appreciation for our services. These notes remind us what all the hard work is for: The joy of bringing people together at special events.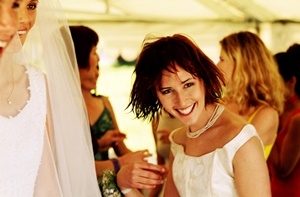 In a world where customer service is increasingly becoming little more than a quaint anecdote of a pre-internet era, we still believe in doing whatever it takes to make your special event truly special. We hope the letters and emails we share here say it better than we can.
Contact our Wisconsin party tent rental specialists for more information on the best event tents and equipment in the Madison, Appleton and Brookfield areas.
< Previous 1 2
Extremely Pleased
Rented tables and chairs for a party and was extremely pleased with them. Prices: fair. Policies: generous (picked up Friday, returned Monday, counted as 1-day rental!). People: super helpful and friendly, cannot say enough good things. Tip: delivery does not include setup, in fact setup is not available. But they will load your trailer and unload it, too.
Excellent Customer Service From Madison Party Rental
Excellent customer service and great products. Would definitely use again. Highly recommended.
Highly recommend them
Patrick and everyone from Madison Party Rental were great. Patrick put up with our visits to see things and requests to have color samples. The setup crew was awesome. They talked to us before they got started on the tent and asked many questions during the setup. They also removed a snake from the backyard for us! We highly recommend them for any event.
Kevin Skinner
Love 'em!
I always get a helpful human being when I call and they always have equipment available when other companies are out. Timely delivery and pickup. Five stars!
Party A Success
Thank you for helping me make my party a success!! Have lunch on us!
Thank You From Hillside School
Dear Harry,
We at Hillside School would like to thank you for your continued generosity. The donation of the stanchions helped us channel traffic and made our carnival a success.
Thanks Again,
Wonderful Job At Wedding
Dear Harry,
Your crew did a wonderful job! You have all been very helpful + will be highly recommended! The Wedding was beautiful- Thanks to the perfect weather + all those "behind-the-scenes!" I hope you enjoy the photos- I know we will for many years!
Sincerely,


Help Was Most Appreciated
Debbie & Brookfield Party Rental,
Thank you for helping the Greendale Community theater with the production of Joseph. Your help was most appreciated.
Sincerely,


Everything Turned Out Perfect
Thank you so much for all your help. Everything turned out perfect on our Day. All the items we got from your rental place were wonderful. I got great customer service all the way through. Please extend my appreciation to the rest of your staff!
Thanks!


Great Job Brookfield Party Rental
Debbie,
I just wanted to share Lynn's overall thoughts with you on the great job Brookfield Party Rental did for Cheery Cherry event.
It is important that things are in place when working on an event of this size. Please share with all your staff because I really appreciate the efforts on your part that go into planning/staffing the quality set up and take down.
Thank you,


THANKS A MILLION!
Your team members are dreamboats! I spaced on re-ordering the coat rack (of ALL nights!) for tonight's re-scheduled seminar. I just called your office and they're already here setting up!!
Thanks For All The Help
Thank you so much for all of your help. You and all your guys were great! We never could have made this happen without you!
Thanks again,
Great Tent Set Up!
Just wanted you to know the three guys who set up our tent for us today were just great! They were so accommodating when I requested a few minor adjustments in placing the tent in a better position given the bad weather forecast for Saturday. Also, we forgot to move our car from the garage, which would have been a problem. Thankfully, they were able to maneuver the car out of the garage, through the tent and onto the driveway. I appreciated the nice job, the extra help… and all this with a smile.