Flatware Rentals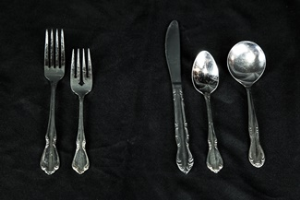 Dinner fork, salad fork, knife, teaspoon, soup spoon
View Details
Rent Flatware for Your Outdoor Tent Event
Eons ago, guests at the typical stone-age wedding reception or other special event had to feast with their bare, hairy-knuckled hands. Thanks to extraordinary advancements in hygiene and manners, mankind now enjoys the benefits of knives and forks at nearly every meal. Surely your event deserves no less than a proper set of flatware.
MadFoxParty thoughtfully offers flatware with sufficient elegance and heft as to not be upstaged by the lovely set of china it flanks. This is the sort of flatware you'd be proud to bring out if your rich uncle Leonard from the Hamptons dropped by for a visit, or if you've invited a few heads of state over for a home-cooked meal and a game of Twister. Our flatware sets have every culinary implement needed for a guest to clean his plate in a dignified manner—salad/dessert forks, soup spoons and teaspoons, forks and knives (even wooden-handled steak knives).
Considering the appalling table manners of our Paleolithic ancestors, you have to thank your lucky stars we're living in the 21st century!
Flatware Set:
Dinner Knife
Dinner Fork
Teaspoon
Steak Knife (wooden handle)
Salad/Dessert Fork
Soup Spoon
Contact our Wisconsin event rental experts for complete flatware sets for your Milwaukee, Fox Cities or Madison area event.