Create Your Own Package
. All prices subject to change without notice.
Personalize Your Party Rental Supplies Beyond the Essentials
Add all the unique extras your special event deserves from Mad Fox Party. Weddings and graduation parties are some of the most popular events for which we provide tents. But that's just the beginning! There are dozens of other parties that require tents, tables, chairs and additional custom designs. Whether you want to customize a Sweet Sixteen, bar mitzvah celebration or a big blowout to commemorate hitting the big 5-0, the possibilities are endless. We have the supplies you need to make your vision come to life. Given the unique and often very personal nature of these events, our "Build Your Own" custom party package is just the thing you're looking for.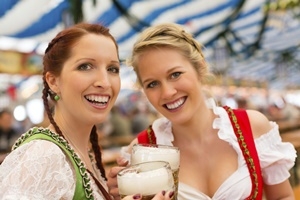 As purveyors of party essentials for over 40 years, both of our rental store locations have the event tents, tables and chairs, plates and glasses. Anything you need for all manner of celebrations.
Throwing a birthday party for kids or teens? Check out our concession foods equipment rentals and bounce houses.
Grown-ups only? Call in the margarita maker and dance floor.
Large crowd of 2,000 for a food festival? You'll want to rent banquet tables and catering equipment. Point is, Brookfield and Madison Party Rentals let you choose a la carte whatever you want in your party package.
Getting Started On Your Party Package
The first step is choosing a tent for your event. By now, you probably have an idea of how many people will be partying it up. Simply choose the most appropriate tent size for the number of people that will be attending. Then, head over to the "Products" section to choose the tables, chairs, place settings and other necessities you'd like for your event.
As you choose the essentials and miscellaneous odds and ends for your event, you will see a running tally of the cost for your package. You may add or subtract items from your package as you go along. If you have questions about any of our rental items throughout the process, feel free to contact us—either online or by phone. We're happy to do what it takes to help you throw the party of the century!
Party Planning Resources:
Rent a Tent for a Tailgate Party? Oh, You Betcha!
Why You're Going to Rent a Party Tent for Your Next Backyard Get-Together (And be Darn Glad You Did!)
If a House Concert is Held in a Tent, Is It Still a House Concert?
For more information or to get a quote on your custom package, contact our location nearest you:
Madison Party Rental

Serves the Madison area and surrounding cities, including:

Cottage Grove, Dane, Deerfield, Dodgeville, Cambridge, Fitchburg, Fort Atkinson, Janesville, Kegonsa, Lake Mills, Middleton, Mt. Horeb, McFarland, New Glarus, Pine Bluff, Spring Green, Stoughton, Sun Prairie, Oregon, Paoli, Verona, Vermont, Waterloo, Waunakee, Whitewater, Wisconsin Dells

Brookfield Party Rental

Serves the greater Milwaukee area, including:

Brookfield, Bayview, Brown Deer, Delafield, Elm Grove, Fox Point, Franklin, Germantown, Glendale, Grafton, Greendale, Hales Corners, Hartland, Janesville, Lannon, Menomonee Falls, Mequon, Milwaukee, New Berlin, Oconomowoc, Pewaukee, Port Washington, Racine, River Hills, St. Francis, Shorewood, Sussex, Wauwatosa, Whitefish Bay