Graduation Party Tent Packages
. All prices subject to change without notice.
Now Hiring Delivery Crew & Tent Installers
We have full time positions available for summer\fall delivery crew\tent installers. Crew position job duties include delivery of event rental equipment throughout South Eastern WI for weddings, graduations, festivals, corporate meetings and sporting events. Some warehouse work and the ability to do regular lifting required. Competitive wages offered along with training from experienced staff for candidates with a license and good driving record.
View Job Listing Complete Employment Application
Graduation Party Rental Packages from Milwaukee to Madison & Beyond
We are Wisconsin's favorite graduation event specialists. Choose from our tent rental packages, build your own custom package or simply rent tables & chairs. No matter how intimate or off the chain your idea is, our event rental companies have the supplies you need.
For help planning your party or more information about our tent rentals and other supplies, contact the location nearest you:
Brookfield Party Rental Madison Party Rental

Cost-Saving Tip: Have Your Gathering at Home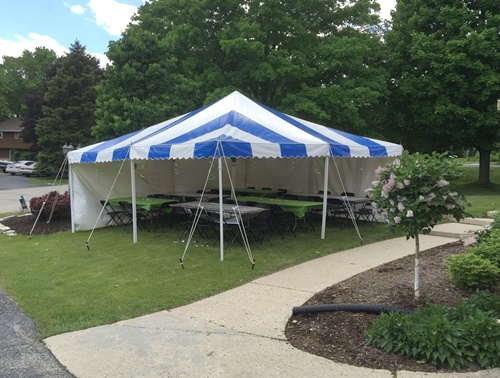 A tent sets the scene for a graduation party in your front or back yard.
Graduation parties hosted at home in your backyard or on the patio save time and money compared to renting a venue. Party tent rental packages make it easy to plan a budget-minded event ready to roll, rain or shine.
Choosing The Right Package
The first thing you'll need to know before choosing a graduation party package is how many guests you'll be hosting. Our packages are all based on the size of tent you'll need, and these tents can accommodate anywhere from 20 or 30 celebrants to over 200. We've put together these party packages based on years of experience and a sincere desire to give you the best value for your dollar. Those of you with graduates heading on to college will surely appreciate this.
Bear in mind these packages are really just a starting point. They include the rental tent, tables and chairs only, so you will likely want to add extras such as table linens, a dance floor, or snow cone machine rental.
To get a better idea of the different tents we offer and possible configurations for tables and chairs, take a look at our online party planning guide.
Graduation Parties for High School, College & Graduates of All Ages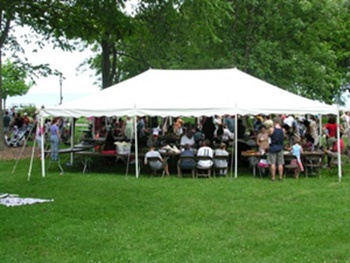 Rent a tent, tables, chairs and other supplies for a no-hassle graduation party at home.
High school and college graduations are easily the most popular types of celebration parties. But don't let that stop you from acknowledging other educational milestones!
Our Madison and Brookfield party rental stores have supplies to complete any event.
Kindergarten parties: Rent a bounce castle, cotton candy machine or pony hops
Elementary school parties: Rent an inflatable movie screen for a fresh air film fest
Middle school parties: Rent a dance floor, DJ in a box and lighting
High school parties: Rent a stage, flatscreen TV or inflatable Aim Game
College parties: Stay classy and rent a bar and glassware for your bartender or keep it classic and rent a giant cooler, pitchers or a portable beer tapper!
Parties for an associates degree, masters degree or doctorate: Go all out and rent globe lights, china, table linens and a red carpet - it's a big accomplishment!
Whether you're throwing a graduation party for a new doctor or nurse, a preschooler or an older graduate, your guests will appreciate the convenience of a tent (because you just can't trust Wisconsin weather, even in June!).
Graduation Party Supplies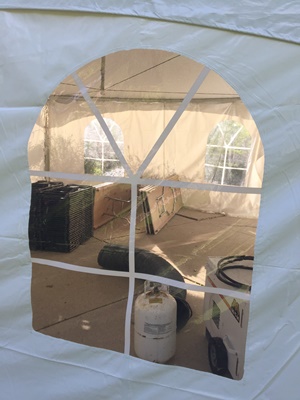 If the weather doesn't cooperate, we also rent sidewalls, heaters and lights for party tents.
Check out our full selection of party rentals to complete your plans. Rent supplies a la carte or add on to customize any graduation party package.
Food Ideas
Our party tents and rental tables make it easy for a catering company to set up and serve so you can enjoy the party along with your guests.
Other food ideas:
Order from your favorite pizzeria
Celebrate the start of summer by renting a hot dog warmer, nacho cheese machine or popcorn machine
Call the graduate's favorite restaurant to see if they handle large delivery orders and schedule ahead of time
Host a pot-luck and supplement with plenty of snacks like popcorn, chips or a vegetable platter
Whatever you choose, Brookfield and Madison Party Rentals have you covered with dishes, flatware, grills and other food service accessories for rent.
Party Planning
Read planning tips on our website or contact your nearest rental location for more helpful tips and advice: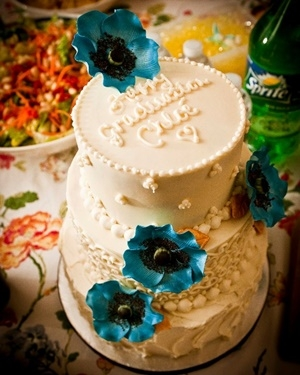 We make hosting a graduation party easy and affordable so you can enjoy the celebration!
In the dark days of the 1970s, a graduation celebration was often a basement keg gathering held at the home of someone's parents who had gone away for the weekend.
Over the years, common sense and an increasing awareness of the dangers of mixing adolescence with alcohol led to hosted parties with considerably more flair than typically before. Today, the tent party reigns supreme.
Whether it's from high school or college, this is a significant event worthy of celebration by both graduates and their parents.
Our years of experience providing party tent rentals, dance floors, and more enables us to offer a range of packages for every size event--from small, backyard get-togethers to full class gatherings.
TENT TIP: Decorating with Ballons

Balloons are an easy and inexpensive way to brighten up any party tent. Choose your grad's favorite colors or go with a school colors theme. Using ribbon, you can tie them to the tent's poles or, if you're renting a frame tent, from the metal cross bars in the roof. Besides being easy to attach around the tent and on tables, kids love to pop them. Especially grown kids.
For more information, or to request a graduation party quote, contact the location nearest you:
Madison Party Rental

Serves the Madison area and surrounding cities, including:

Cottage Grove, Dane, Deerfield, Dodgeville, Cambridge, Fitchburg, Fort Atkinson, Janesville, Kegonsa, Lake Mills, Middleton, Mt. Horeb, McFarland, New Glarus, Pine Bluff, Spring Green, Stoughton, Sun Prairie, Oregon, Paoli, Verona, Vermont, Waterloo, Waunakee, Whitewater, Wisconsin Dells

Brookfield Party Rental

Serves the greater Milwaukee area, including:

Brookfield, Bayview, Brown Deer, Delafield, Elm Grove, Fox Point, Franklin, Germantown, Glendale, Grafton, Greendale, Hales Corners, Hartland, Janesville, Lannon, Menomonee Falls, Mequon, Milwaukee, New Berlin, Oconomowoc, Pewaukee, Port Washington, Racine, River Hills, St. Francis, Shorewood, Sussex, Wauwatosa, Whitefish Bay