Rentals for Prom Night After-Parties at Wisconsin High Schools
Prom night is always the highlight of the school year for students, and a night of dread for parents. It's not the prom itself that's worrisome, it's what goes on after the prom. Teens left to their own devices don't always make the best decisions, and the consequences can be tragic.
But what if you could give teens a better option than going out partying after the prom?
Several years ago, a Maryland mother was so upset by the death of a friend's son in a drunk driving accident on prom night she came up with the idea to host prom night after-parties where kids could have fun and be safe. The idea spread to dozens of other high schools in the area, all cooperating to share ideas for themes and fundraising for the prom after-parties.
Today, prom night parties are held at schools all across the country. Amazingly, most students say they look forward to these after-parties more than the prom itself. If your child's school doesn't hold an after-party, or their party isn't well-attended, read on.
Frequently Asked Questions about Prom Night After-Parties
How do you get teens to attend a prom after-party when all the cool kids are out partying?

The objective is to throw such a great party that teens would rather be there than out drinking and doing other things parents don't want to even imagine. To do this, you need five things:
Food. It doesn't have to be anything fancy. Studies show 99.9% of high school students put pizza in their Top 5 Foods of All Time list. There are other options though, like hiring a food truck or renting a grill to serve hamburgers or grilled chicken.
Music. Whether it's a live DJ, a band, or someone's iPod playlist on a stereo system, you're going to need music.
Entertainment: Some activities that go over well include karaoke, casino gambling with play money the kids redeem for prizes, movies, inflatable bounce houses and henna tattoos. Hiring an entertainer? Make it interesting, like the knife juggler/fire eater one school in Missouri hired.
Decorations: You need to create a ambiance, and a theme definitely helps. While it's probably not feasible to create the sort of themed ambiance of the prom itself, there are hundreds of inexpensive ways to decorate. It could be as simple as hundreds of balloons or as lavish as a laser light show. Budget is usually the deciding factor.
Prizes: This is the key to it all. You need to have great prizes, you need to have the drawing for them at the end of the party, and you need to make it a policy the kids have to stay 'til the end of the party if they want a chance at winning a prize.
When we say "great prizes," we mean things like iPads, laptops, flat screen TVs, gaming consoles, dorm refrigerators…if you have a teen, you know the sorts of things they want. There are even schools that have given away a car for a grand prize. If the prizes are enticing enough, kids will stay til the end of the party.
With most after-parties ending around 4am, kids who've stayed up all night aren't going to want to go out drinking at the break of dawn. Which is the whole idea!
How can you afford to give away super awesome prizes at an after-prom party?
Charge an admission fee. This isn't going to cover all your costs, but it will help. Since most students and their parents have already spent a good chunk of change on the prom, your admission fee can't be another big financial hit for them. $5 is so low no one could say "no thanks." $10 is reasonable. $15 is definitely saying "this is a premium quality event." $20 to $25 is a bit steep, but not if the prizes are really spectacular and there are parting gifts for everyone.
Recruit sponsors. Think of local businesses that have teens as clients, like orthodontists, dentists, tutoring centers, Laser Tag emporiums, movie theaters, electronics stores. They'll benefit from having their names on ticket stubs and other items at the event. Some may even agree to donating merchandise for the giveaways.
Ask parents for donations. Many parents won't be thrilled about making a donation after paying for prom dresses, renting tuxedos and other prom night expenses, but there will be others who appreciate what you're doing and will gladly donate just to know their child will not be getting into trouble on prom night.
Start a Go Fund Me page. It's much easier than going door to door or making phone calls, and you may find yourself getting contributions from outside your community. Let alumni know about your Go Fund Me page. With a good cause like keeping kids safe on prom night, you may find yourself getting more donations than you ever imagined.
How do you make sure kids don't drink or do drugs before or during the after-party?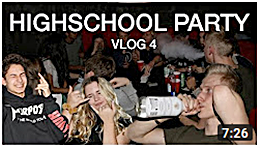 This is precisely why you want your kids at a prom night after-party.

Promoters of prom night after-parties make these recommendations:
Make it clear that drinking, doing drugs and smoking are not permitted.
Some schools actually require a breathalyzer test before entering the party. This usually requires a police officer at the event, and it can come across as a bit intrusive. However, if the students want a chance at winning one of the great prizes (see, another reason why you need great prizes), they'll go along with it. Best advice: if anyone has obviously been drinking, let them in and then call their parents to pick them up. Sorry, rules are rules.
Don't allow kids to leave the party and come back later.
In most cases, anyone who wants to leave for a bit and then come back is probably up to no good. If the kids understand from the outset they're at the party for the duration, this shouldn't be an issue. Inevitably, someone will want to leave and not come back. In this case, your policy needs to be that the parents are notified or required to pick them up.
Have parents and teachers (if the event is on school grounds) monitoring the party.
You don't need to hover over every kid, but it's a good idea to have a few adults on hand to keep an eye on the event and on the grounds where its being held—especially if it's an outdoor event.
Where do you host a prom night after-party?
The party can be indoors or out, but if it's open to the entire school it will need to be in an area large enough to accommodate everyone—and convenient enough for prom-goers to get to. While many schools host their after-prom parties at local venues, this requires transportation from the school to the venue. Some schools use buses to transport attendees from the school to the venue—and, in fact, require anyone going to the party to take the bus—but this adds complexity to the logistics and, in many cases, an additional expense. An after-party held on school grounds avoids this.
Why a party tent on school grounds is a better option for an after-prom party than a venue off school premises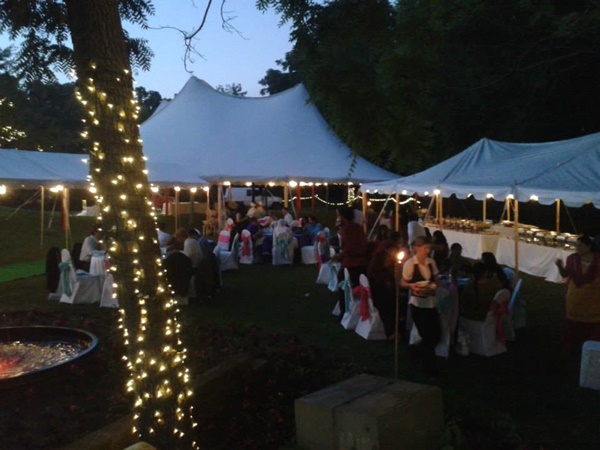 A combination of pole tent and frame tents, with globe lighting on the perimeter of the tents.
First, it's much more convenient. Students can walk from the gym to the athletic field where the tent is set up. If the dress code for the event is casual, they can change in the gym locker rooms and leave their dress clothes in their lockers.
More importantly, though, having the party on school grounds completely eliminates the possibility of kids partying (i.e. drinking and doing drugs) before going to the after-party. Parents will have peace of mind knowing exactly where their kids are the entire evening.
In Wisconsin, the weather is usually tolerable enough by spring prom night for an outdoor tent event. Even if we get a cold front or a freak snow storm, a tent heater will make the tent plenty comfortable.
For events held on school grounds, you obviously need not only the school's permission but also their participation. You definitely want to get the school's PTA involved in the planning and fundraising for the event.
What if you just want to host a small after-party at your home?
If you're hosting a small prom night after-party in your backyard for a dozen or so teens, a small frame tent or high-peak tent will work well. You can move some rec room furniture under the tent to create a cozy ambiance, set up a stereo and a TV, maybe have a dance floor and some LED PAR lighting to set the mood.
Do you need insurance for an after-prom party?
Definitely. Even though you won't be serving alcohol or allowing it at your event, there's always the possibility someone gets injured at an event. Check with your school to see if their insurance would cover an after-prom party. If not, you can purchase event insurance online.
We've covered event insurance for weddings on our website, and while an after-prom party is a different type of event this article has some useful information on event insurance.
How can our Wisconsin party rental stores help?
Whether you're thinking about hosting an all-school after-party or a small get together in your backyard for a dozen or so teens, our Brookfield and Madison party rental stores have just about everything you need…except the great prizes.
Here are a few suggestions:
Need Help Planning a Prom Night After-Party?
Let us know if we can help you with deciding on what size tent to rent and any additional rentals you may need. You can contact us at the store location nearest you.
Madison Party Rental

Serves the Madison area and surrounding cities, including:

Cottage Grove, Dane, Deerfield, Dodgeville, Cambridge, Fitchburg, Fort Atkinson, Janesville, Kegonsa, Lake Mills, Middleton, Mt. Horeb, McFarland, New Glarus, Pine Bluff, Spring Green, Stoughton, Sun Prairie, Oregon, Paoli, Verona, Vermont, Waterloo, Waunakee, Whitewater, Wisconsin Dells

Brookfield Party Rental

Serves the greater Milwaukee area, including:

Brookfield, Bayview, Brown Deer, Delafield, Elm Grove, Fox Point, Franklin, Germantown, Glendale, Grafton, Greendale, Hales Corners, Lannon, Menomonee Falls, Mequon, New Berlin, Oconomowoc, Pewaukee, Port Washington, Racine, River Hills, St. Francis, Shorewood, Sussex, Wauwatosa, Whitefish Bay