Disaster Relief/Social Distancing Equipment
Portable Shields
Creating a safe and healthy enviornment
Needing an extra wall or barrier to provide more separation? These portable shields were designed with you in mind. It features a clear vinyl top half and a solid vinyl bottom half that allows you to feel safe without feeling isolated. They are great for both long and short term use. The Shields were made to be a sturdy, yet light weight option that allows you to move it according to your needs.
Shields come in a variety of sizes to ensure that you have the best divider for your space. Sizes ranging from 2′ x 2′ to 6'6″ x 10′. Small Shields are designed to sit on desks, counters, tables and workspaces. Large Shields are designed to sit on the ground and create barriers for lines, hallways and anything in between!
COVID-19 Testing Tents –
Rentals, Delivery & Setup from Madison to Milwaukee
We have a variety of tent sizes and equipment needed to set up off-site testing areas in the event that your facility needs them. Our rental tents double as medical tents for screenings, containment, and testing. For immediate service, call and speak directly to a MadFox representative. We're available throughout the week to take orders, deliver and setup necessary equipment to keep your operations running and Wisconsin citizens safe. Give us a call (phone numbers at the top of the screen), we're here to help. Or, fill out a contact form for more information.
Rent heated tents for off-site testing and accommodations
Hostpital and healthcare facility overflow should be expected: in the event that you need to rent a heated tent to maintain the COVID-19 overflow, contact MadFox. Our winter tents can hold anywhere from 1-100 people at a time; and, we can set up corridors or heated hallways between multiple tents to extend off the main building. Our winter tents come with:
walls
heaters
concrete stabalizers
...to ensure that the tent is secure and everyone inside is comfortable (as much as they can be during these times). Call for winter tent availability and more information.
Restaurant Curbside Tents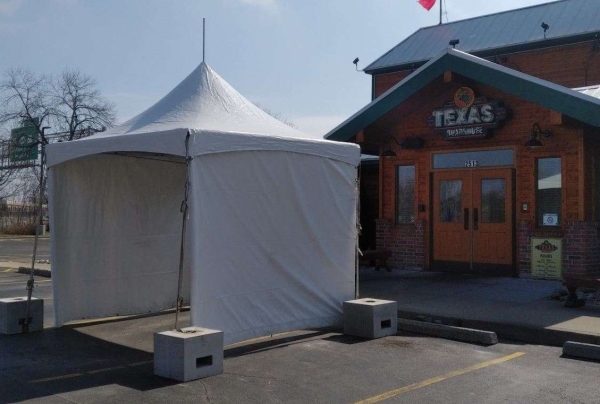 Ensure the safety of your customers and your employees by providing covered curbside pickup from your restaurant. Rent a popup tent from MadFox for the duration of the statewide "Safer-at-Home" order so no food goes to waste while you're keeping up with the new regulations. Our tent packages come with a variety of necessary equipment, and we offer additions for other circumstances. Our MadFox Party Rental locations can deliver and setup curbside tent rentals throughout southeast Wisconsin, including:
Milwaukee
Brookfield
Waukesha
Racine
Oconomowoc
Madison
Wisconsin Dells
And everywhere in between! Call or email to order today and get setup with the things you need.
Church Drive In Style Service Stage with Frame Tents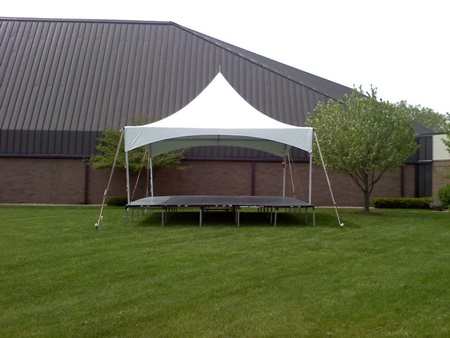 Host drive-in services at your Church (or other place of worhsip) during the Wisconsin "Safer-at-Home" order with a rented tent from MadFox. Our Brookfield & Madison locations put us in prime position to deliver:
popup tents
audio/visual equipment for broadcasting
staging for elevated TV height
fencing
...and much more. Get in touch with a MadFox representative to discuss the specifics of what you need and what you're looking to do: we'll give our best advice on necessary equipment and get it to you in no-time.
Available disaster relief rental equipment
MadFox isn't just about parties – our rental products can help streamline efficiency when you need it most. Rent any number of:
Tents
Tables & Chairs
Heaters or fans
Coolers
Audio/visual announcement equipment
We work with you to place the order you need and deliver the equipment as soon as we can. We can get you a quote on all necessary equipment over the phone so you can get back to what matters. Then we'll deliver & set up the tent/equipment for however long you need it.
When disaster strikes, count on MadFox to get you the equipment you need ASAP. We're located in Madison & Brookfield to easily transport tents, tables, coolers and more to your area. Get in touch with a representative now to start your immediate order.
Get in touch with MadFox party rentals for your disaster relief rental needs.
Madison Party Rental

Serves the Madison area and surrounding cities, including:

Cottage Grove, Dane, Deerfield, Dodgeville, Cambridge, Fitchburg, Fort Atkinson, Janesville, Kegonsa, Lake Mills, Middleton, Mt. Horeb, McFarland, New Glarus, Pine Bluff, Spring Green, Stoughton, Sun Prairie, Oregon, Paoli, Verona, Vermont, Waterloo, Waunakee, Whitewater, Wisconsin Dells

Brookfield Party Rental

Serves the greater Milwaukee area, including:

Brookfield, Bayview, Brown Deer, Delafield, Elm Grove, Fox Point, Franklin, Germantown, Glendale, Grafton, Greendale, Hales Corners, Lannon, Menomonee Falls, Mequon, New Berlin, Oconomowoc, Pewaukee, Port Washington, Racine, River Hills, St. Francis, Shorewood, Sussex, Wauwatosa, Whitefish Bay