Graduation Party Planning 101.
Graduation party season typically runs from June through July. It's not a long season, but it is a busy one. The classic party is a backyard grill out, with a canopy tent on site for shelter from the sun or the impromptu thunderstorm. Unless you are planning to throw similar parties for multiple children, you are usually better off renting a canopy tent than you are buying one. We can definitely help you with that!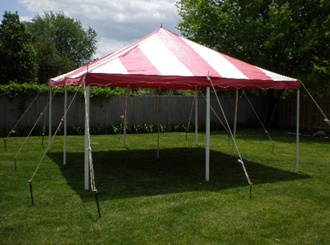 This striped 20' x 20' party tent has room for enough tables and chairs to easily accommodate 25 to 30 guests.
The backyard graduation party with a canopy tent falls somewhere in-between the low key option of going out to dinner with a few friends and the far more elaborate (and expensive) option of renting a hall or a restaurant and having a full-on catered event for a large group.
Many parents (and graduates) find the backyard event is actually far more enjoyable than a formal party due to the relaxed ambiance. Of course, you don't have to hold your event in a backyard. It can be in a park or some other scenic location (with permission from the city or property owners, of course)
For many families, having a joint party with another student in your child's class and his/her parents is a great way to go. Not only does it avoid the redundancy of each family having their own celebration, but graduates who are friends seem to like the idea of having a party together..
The smaller sized canopy tents we rent are pretty easy to set up, and we provide instructions for setting them up. The bigger problem for most people is getting the tent to your house. You really need a pickup truck or a large SUV to carry the unassembled tent. If you don't have either, or just want someone who knows what they're doing to set up the dent, we can do that.
How Far In Advance Should You Rent A Tent For A Graduation Party?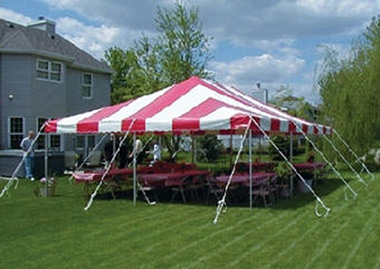 This 20' by 30' foot tent can fit eight 8' long banquet tables and 64 folding chairs.
We recommend you get started as early as possible. If your child is graduating in June or July, it's a good idea to be making plans (and reservations) in January or February.
Six months in advance may seem ridiculously early, but keep in mind there are a lot of families thinking about having a graduation party. If you wait until a month before your party, you may very well find every tent has been rented.
To help simplify your party planning, we offer several different Graduation Party Packages. These packages have the basics—a canopy or frame tent and enough tables and chairs to fit comfortably under the tent. The packages are sized to accommodate anywhere from 48 guests ("Family" package) to 80 guests ("The Whole Damn School" package.) If you plan on having more than 80 guests, we'd recommend renting one of our larger frame tents.
After you've chosen a tent size appropriate to the number of guests you plan to invite to your party, you can start looking into some of the extra "add ons" we offer. You'll find them all in our "Products" pages.
Party Tent Add-ons To Consider
Lighting: If your party will run into the evening hours, a string of globe lights around the tent will provideenough illumination to prevent anyone from falling face down in the potato salad bowl. If you just want some ambient lighting, you can also try stringing small bulb holiday lights around the top edge of the tent using clothes hangers to secure them in place.
Table linens: Besides linen tablecloth rentals, we also have disposable table linens (paper). Whether you rent from us or find something on your own, you will likely want some sort of table covering because the bare wood tables are rather Spartan.
Karaoke machine: There's nothing wrong with having a stereo on for background music, but a karaoke machine really livens up any party.
A stage: if you're planning on having a band play at the party, you need a place for them to set up. The patio is not a good idea, since people will inevitably be coming and going from the house to the back yard through the patio door. Combine this with the potential of tripping over cords and, well, just forget it. What you need is an elevated stage for the band. Our stages are assembled on risers (anything from a few inches off the ground to 3 feet off the ground) and can be just about any size.
A dance floor: Whether you're planning to have live music or music from a stereo, consider adding in a dance floor. Since you'll probably have a small to moderate-sized tent, you'll need one of our indoor-outdoor dance floors capable of surviving an unexpected rain.
What's For Dinner? (Or lunch.)
Many families hosting a graduation party will make it a potluck event. If you don't want to be at the mercy of whatever another family brings, the most popular options are grilling burgers and ordering a pizza. Obviously, pizza is the easiest way to go. For a larger event, though, or one where you really want to go all out, you may choose to have the meal catered. If that's your choice, we also rent plates, silverware, and serving dishes.
Get Started Today!
The best advice we can give you is to start planning your party well in advance. If you know how many guests you're planning to have, go take a look at our Graduation Party rental packages. These are the basic "tent, tables and chairs" package deals to which you'll add any extras you may want. You can view all our rental options in our Products pages.

Of course, if there's anything we can do to help, feel free to let us know via email or phone call to the location nearest you.
Madison Party Rental serves the Madison area and surrounding cities, including:

Cottage Grove, Dane, Deerfield, Dodgeville, Cambridge, Fitchburg, Fort Atkinson, Janesville, Kegonsa, Lake Mills, Middleton, Mt. Horeb, McFarland, New Glarus, Pine Bluff, Spring Green, Stoughton, Sun Prairie, Oregon, Paoli, Verona, Vermont, Waterloo, Waunakee, Whitewater, Wisconsin Dells

Brookfield Party Rental serves the greater Milwaukee area, including:

Brookfield, Bayview, Brown Deer, Delafield, Elm Grove, Fox Point, Franklin, Germantown, Glendale, Grafton, Greendale, Hales Corners, Lannon, Menomonee Falls, Mequon, New Berlin, Oconomowoc, Pewaukee, Port Washington, River Hills, St. Francis, Shorewood, Sussex, Wauwatosa, Whitefish Bay