Event & Party Tent Rentals
. All prices subject to change without notice.
Rent Canopy Tents for Weddings, Graduations, Baby Showers & Outdoor Events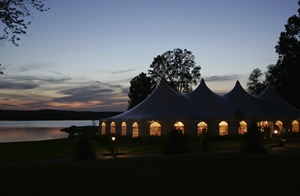 Tents let you have your special event in a special location.
Even the simplest of our event tents can create a unique ambiance. And when lit up at night, a tent conveys a warm and festive ambiance altogether lacking in an indoor setting.
Brookfield and Madison Party Rental congratulates you on your decision to think outside the box of stuffy, limiting reception halls and auditoriums. Wedding receptions, graduation parties, corporate outings, multi-day festivals—we have a tent and often a party package for any occasion.
Browse our event tent rental options or check out images in our event rental gallery for inspiration. If you have any questions about party tent sizes, prices or recommendations, we're here to help!
Wedding Tents
In keeping with the classic color theme of weddings, all our wedding event tents are white. However, don't rule out a white tent for occasions other than weddings. A white tent is perfectly suitable for anniversaries, graduation celebrations and other events. We have these in a variety of sizes ranging from 20×20 to 60×160.
Striped Party Tents
Big or small, we rent striped party tents for all occasions.
We carry striped party tents in a wide range of sizes. Rent a 10-x10 red and white striped party tent for a backyard birthday party or rent a 40x200 black and white striped tent for a graduation party.
Our striped tents come in a variety of colors, so if you need a tent with a specific stripe color (to match your school or corporate colors for example) be sure to contact us well in advance of your event so you can reserve the color you want!
Frame Tents
Frame tents are free-standing tents with no interior poles—a nice feature to promote mingling and a necessity if you plan on having a dance floor. Since these tents usually do not require in-ground staking, they can be set up on just about any type of ground surface. We offer these in sizes from 10x10 to 40x100.
Because our frame tents can be set up practically anywhere and work well for all types of outdoor events, they are in high demand in warmer months. Contact the party rental location nearest you for help choosing the right size or to reserve your frame tent today!
Pop-Up & DIY Canopy Tents
Our pop-up canopy tent rentals are convenient and cost-effective for small outdoor events, and easy for our customers to set up on their own. We can deliver a DIY canopy tent to you, or you can come by our Brookfield or Madison location to pick it up (if you have a big enough vehicle).
Inflatable Tent Rentals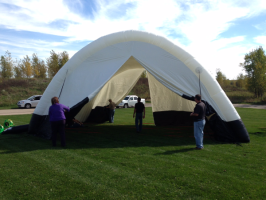 Inflatable tents are lightweight & portable.
Inflatable tents are lightweight, easy to transport and fast to set up or take down. Inflatable tents will help your company or organization stand out from the crowd at your next outdoor event. Contact an event planning specialist for more information including pricing for inflatable party and event tents!
Back Yard Tent Rental Tip: When to Mow the Lawn
While you might think it would be a good idea to mow the lawn the day before your party tent is set up, we ask that you do NOT do this. The chlorophyll in the grass clippings will stain our tents when we lay them out on the lawn prior to setting them up. You should mow your lawn no later than 3 days before your event.
Another reason not to mow your lawn right right before we put your tent up: Grass will actually survive all the foot traffic better if it's a little on the long side.
Rental Tent Heating, Lighting, Flooring & More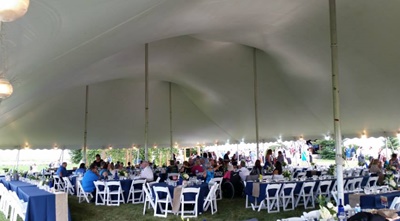 We have everything you need to turn your tent rental into a beautiful event.
Brookfield Party Rental and Madison Party Rental have the tent accessories you need to ensure your event's a success in any season. The right tent is just the beginning—we also rent party supplies for any occasion including tables, chairs, china & glassware, inflatable games and anything else you might need for your outdoor event.
If you have a special request or would like some expert advice for your event, just contact the location nearest you!
Brookfield Party Rental Madison Party Rental
Heaters for Event Tents
You can never trust Wisconsin weather! We rent tent heaters, patio heaters and even generators to power it all and keep the party going, whether you're planning a winter tent event or just playing it safe in the spring or fall.
Lighting
If your event will run into the evening hours, you will definitely need lighting. We can set up your tent with Globe Lighting or LED Par Lighting. Both create a warm, festive ambiance. The hanging globe lights have a shade to create a warm, diffuse light. Our LED lighting is placed pointing upwards to illuminate the roof of the tent. The light color of the tent reflects the light to create a very pleasing light.
Solid White Sidewalls
Sidewalls transform a tent into a private enclosure. Besides helping to keep bugs from flying into your gathering, sidewalls also keep down wind noise and provide greater protection from rain showers. Sidewalls are also quite useful for keeping uninvited passersby from wandering in or standing outside gawking at your event. One thing to keep in mind, though: sidewalls on a party tent will make it 10 to 15 degrees warmer inside. This is great if it's cold outside, but not so great if it's a hot summer day. If you just want to block out an unappealing view or a side of the tent that borders a neighbor's house, you can opt for sidewalls on just one side of your tent.
Window Sidewalls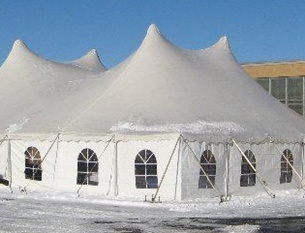 Winter tent rentals are perfect for a winter weddings & other events.
Window sidewalls are tent sidewalls with a clear vinyl window. Allowing natural light to enter your tent brightens the ambiance immensely. However, if you are planning to host your event during hot weather months, you should be aware that window sidewalls will increase the temperature inside your tent in the same way solid white sidewalls will increase the temperature--perhaps even more with sunlight streaming through the clear vinyl. If your event will be held in cooler months, no problem. If you will be holding your event during warmer weather, consider having sidewalls only on the sides of your tent you most want covered. You may also want to rent pedestal fans for inside your party tent.
6 ft. Signature Fencing
Our 6 ft. Signature fencing is an elegant way to create an entrance to your tent, enclose an open-sided tent, or delineate areas within your tent for exhibitors to have their own space. These free-standing 6 ft. long fence sections offer a variety of intriguing possibilities both inside and outside your tent.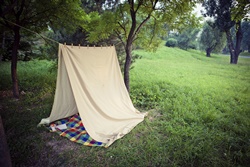 Make memories in your back yard again.
A tent by itself is often perfectly adequate for many events. However, we know "adequate" sometimes just isn't sufficient. With the addition of a few tent accessories, your tent will not only be more practical but also more appealing. Equipped with sidewalls, lighting and decorative fencing, a tent creates a uniquely festive atmosphere and evokes fond memories of childhood trips to the circus. Minus the elephants and trapeze artists, of course.
Remember when you were a kid and had a tent in the backyard? Even if it was just a tarp slung over a clothesline, there was something magical about it. Tents just have an incredible ability to create a special oasis, even in the most mundane, middle of nowhere settings. We see it all the time (see our article on planning a backyard kids' birthday party).
When it comes to parties and events, a tent offers much more than simply shelter against the sun or the rain. A tent makes a statement—it says something significant is going on and the host cares enough about those in attendance to provide a special place for them to gather.
For more information or a quote, contact the location nearest you:
Madison Party Rental

Serves the Madison area and surrounding cities, including:

Cottage Grove, Dane, Deerfield, Dodgeville, Cambridge, Fitchburg, Fort Atkinson, Janesville, Kegonsa, Lake Mills, Middleton, Mt. Horeb, McFarland, New Glarus, Pine Bluff, Spring Green, Stoughton, Sun Prairie, Oregon, Paoli, Verona, Vermont, Waterloo, Waunakee, Whitewater, Wisconsin Dells

Brookfield Party Rental

Serves the greater Milwaukee area, including:

Brookfield, Bayview, Brown Deer, Delafield, Elm Grove, Fox Point, Franklin, Germantown, Glendale, Grafton, Greendale, Hales Corners, Lannon, Menomonee Falls, Mequon, New Berlin, Oconomowoc, Pewaukee, Port Washington, Racine, River Hills, St. Francis, Shorewood, Sussex, Wauwatosa, Whitefish Bay