Event Planning: Preparing For A Worst Case Weather Scenario In Wisconsin
The question comes up all the time: 'Will a party tent be safe if a big thunderstorm rolls in the day of our event?' No one likes to even entertain the possibility, but we cannot overestimate the importance of having a Plan B in place just in case an epic storm rolls through on the day of your event.
How Safe Are Event Tents In A Storm?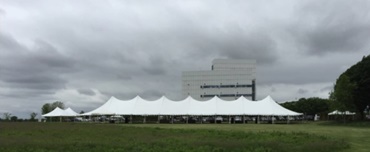 If it is just a good downpour of rain, your tent will provide adequate shelter for your guests. It's another story if the storm brings strong winds and lightning.
While our pole tents can withstand pretty heavy winds, we don't recommend staying under one in those conditions. When a pole tent comes down, the tall poles supporting the canopy come with it. These poles are quite heavy and can cause serious injury if they land on someone. Consider, too, the possibility of lightning striking one of the tall support poles.
Frame tents aren't nearly as stable as pole tents in heavy storms, especially if they aren't secured with anchor ropes and stakes. If there's even the slightest hint of strong winds on the day of your event, we'll make sure a frame tent is anchored to the ground. Still, frame tents are more easily tossed around than pole tents in adverse conditions.
For these reasons, we highly recommend having your tent set up in a location where you and your guests can seek shelter in a nearby building. If there isn't one within walking distance of where your tent is set up, know where the nearest one is. It might be a store or a gas station half a mile away. The important thing is to know ahead of time where to tell your guests to seek shelter in a worst case scenario.
What Exactly Is A Safe Shelter?
According to the National Oceanic and Atmospheric Administration (NOAA), a safe shelter is "one that is fully enclosed with a roof, walls and floor, and has plumbing or wiring. Examples include a home, school, church, hotel, office building or shopping center. Once inside, stay away from showers, sinks, bath tubs, and electronic equipment such as TVs, radios, corded telephones and computers."
Just to be clear: carports, covered patios, picnic shelters, beach pavilions, open garages, trees and of course tents are all unsafe places to seek shelter in a severe storm.
When To Make The Decision To Evacuate
While NOAA advises to "Run to a safe building or vehicle when you first hear thunder, see lightning or observe dark threatening clouds developing overhead," there's often a tendency to think "No worries, just a passing storm." Remember, though, as a host you are responsible for the safety of your guests.
If your tent is set up near your house, or another large building where you can seek shelter, by all means move indoors ASAP. If your tent is out in a field, miles from the nearest building, have your guests seek shelter in their cars (which are most likely parked nearby). There's always a chance the storm will blow over in 15 to 30 minutes and you can all go back to the tent. If the weather doesn't clear up, it's time to head to the nearest safe building.
Have a Plan B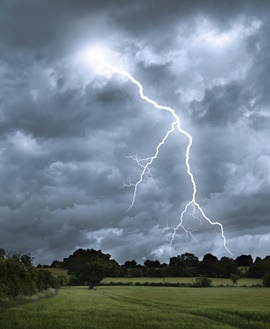 If you see lightning like this, it's time to evacuate the rental tent and go to Plan B.
You really need to have a Plan B. At the very least, scope out the immediate area well ahead of the day of your event. Look for stores or restaurants where you and your guests can find shelter in a worst-case scenario. If it happens, spreading the word verbally in the chaos of everyone evacuating can be difficult. Instead, text or email everyone the address of where they can find shelter. Then, when the storm passes, you can return to the tent. Unless you had tornado force winds, chances are the tent is still standing.
A better plan is to include "rain cards" in your invitations letting your guests know about your alternate plan in case of bad weather. For instance: "In case of heavy rain, please rendezvous at the ____ restaurant/hotel." (Fill in the blank with a nearby restaurant or hotel.) Just make sure to check with the restaurant or hotel ahead of time to inquire about their ability to handle a sudden crowd in the event you're rained out. Often, they'll have an unbooked banquet room they'll be all too happy to make available for you.
It's also a good idea to ask your guests to give you their cell phone numbers so you can update them all at once if there's threatening weather on the day of your event. Include your email address or cell phone number on the rain card so they can get back to you.
If An Event Can't Be Held Due To Extreme Weather, Do You Get A Refund On Your Tent Rental?
Unfortunately, no. Weather is something no one can predict, especially when many events are planned months in advance. For this reason, we urge you to have a plan in place in case severe weather ruins your event.
For more information or assistance, contact us at the location nearest you:
Madison Party Rental serves the Madison area and surrounding cities, including:

Cottage Grove, Dane, Deerfield, Dodgeville, Cambridge, Fitchburg, Fort Atkinson, Janesville, Kegonsa, Lake Mills, Middleton, Mt. Horeb, McFarland, New Glarus, Pine Bluff, Spring Green, Stoughton, Sun Prairie, Oregon, Paoli, Verona, Vermont, Waterloo, Waunakee, Whitewater, Wisconsin Dells

Brookfield Party Rental serves the greater Milwaukee area, including:

Brookfield, Bayview, Brown Deer, Delafield, Elm Grove, Fox Point, Franklin, Germantown, Glendale, Grafton, Greendale, Hales Corners, Lannon, Menomonee Falls, Mequon, New Berlin, Oconomowoc, Pewaukee, Port Washington, River Hills, St. Francis, Shorewood, Sussex, Wauwatosa, Whitefish Bay