Wisconsin Party & Event Tent Planning Guide
Choosing the Right Size Tent for Your Event
Our party rental tents come in a variety of shapes and sizes. Choosing the right one for your event can seem more complicated than picking out table linens for a wedding reception, but we're always available to help you sort through all the possibilities and determine which style and size will work best for you. To get you started with pre-planning your event, the following guidelines will give you good idea of the approximate area you'll need for each person under your tent or canopy:
TENT TIP: Plan For The Worst…Weather Wise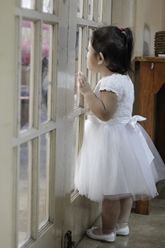 Not to sound like a pessimist, but when you're deciding on on a tent for your event you need to plan as if it's going to rain. Trust us, the last thing you want is a freak storm making 100 people run for cover under a tent that only holds 50. If anything, get a tent slightly larger than you think you'll need. The extra space is always a good thing.
It's not always a downpour that wreaks havoc on an event. Sometimes it's oppressively hot, sunny weather. An adequately sized tent provides welcome relief on such days--especially at locations where there are no shade trees. So even if you're convinced there won't be rain, you'll still want protection from the sun.
Ceremony (allowing for aisle)… 9 sq. ft. per person
Cocktail Party/Standing………… 5-6 sq. ft. per person
Cocktail Party/Seated …………… 10 sq. ft. per person
Reception/Partial Seating………… 8 sq. ft. per person
Dining/Oblong Tables……………… 17 sq. ft. per person
Dining/Round Tables……………… 15 sq. ft. per person
Cathedral Seating (in rows)……… 6 sq. ft. per person
Dance Floor Area………………………… 2-4 sq. ft. per person
Of course, no event is ever a simple matter of everyone sitting at tables. There is often a buffet area, a dance floor and a stage. In such situations, a good rule of thumb is to add 100 sq. ft. for every buffet table and 400 sq. ft. for a small dance floor or a stage. We also advise having 100 sq. ft. for every 4 guests at a wedding reception.
Keep in mind this is just a rough guide and may not be applicable to all events. Our staff will assist you in making the final selection after we have a better understanding of your event. Our goal is always to help you make the right decisions based on your specific event—whether it's a backyard gathering for 50 guests or a huge gala for 500.
| | |
| --- | --- |
| Number of guests: | Recommended tent size: |
| 50 | 20' x 40' (seated), 20' x 30 (standing) |
| 100 | 30' x 50' (seated), 30' x 30' (standing) |
| 150 | 40' x 60' (seated), 40' x 40' (standing) |
| 200 | 40' x 80' (seated), 40' x 60' (standing) |
| 300 | 60' x 80' (seated), 60' x 60' (standing) |
Stripes or No Stripes - We Have Both
Striped tents are popular for festivals, concerts, and parties of all types. We have blue and white, red and white and blue and yellow striped tents available for rent. Striped tents work well for virtually every kind of event except weddings. This is why all our wedding tent rental packages include white tents. If you are ordering just a tent for a wedding, be sure to specify you want a white tent. We always ask what type of event you're planning, and recommend a white tent if it's a wedding, but to avoid any possible miscommunication it's a good idea to make sure you tell us you want a white tent for your wedding.
How Far In Advance Should You Rent a Wedding Tent?
Although we stress the importance of planning well ahead, the day after you get engaged is probably a bit premature. Six months before the big day is about right, although making plans a year ahead is not unheard of for large receptions. You definitely do not want to put this off until a month before your wedding day or you may find all the rental tents are booked. Then you're at the complete mercy of Wisconsin weather. Are you willing to roll the dice on the weather being perfect for your wedding day?
The most popular months for weddings are June through September. If you're planning a wedding in any of those months, you need to consider there are hundreds of other couples also planning for those months. There are also four holidays during this time frame that don't work well for wedding days because most people have other plans:
Fathers Day, June 18
Independence Day, July 4
Labor Day, September 4
Yom Kippur, September 30
So, that's 4 weekends you can pretty much rule out for a weekend wedding date—making demand for rentals on the remaining 16 weekends even higher. And don't forget the hundreds of festivals and other parties going on during the fair weather months. Point is, demand is high during the busy season.
For this reason, we encourage you to make plans well ahead of the big day.
Consider a Package Deal
We offer several tent rental packages, which include the basics: tent, tables and chairs. From there, you can select any additional rentals you may need as add-ons when you complete checkout online.
Articles of Interest:
For more information or a quote, contact the location nearest you:
Madison Party Rental

Serves the Madison area and surrounding cities, including:

Cottage Grove, Dane, Deerfield, Dodgeville, Cambridge, Fitchburg, Fort Atkinson, Janesville, Kegonsa, Lake Mills, Middleton, Monona, Mt. Horeb, McFarland, New Glarus, Pine Bluff, Spring Green, Stoughton, Sun Prairie, Oregon, Paoli, Verona, Vermont, Waterloo, Waunakee, Whitewater, Wisconsin Dells

Brookfield Party Rental

Serves the greater Milwaukee area, including:

Brookfield, Bayview, Brown Deer, Delafield, Elm Grove, Fox Point, Franklin, Germantown, Glendale, Grafton, Greendale, Hales Corners, Lannon, Menomonee Falls, Mequon, Milwaukee, New Berlin, Oconomowoc, Pewaukee, Port Washington, River Hills, St. Francis, Shorewood, Sussex, Wauwatosa, Whitefish Bay