5 Budget-Friendly Wedding Tent Decoration Ideas
Weddings aren't cheap. But they don't have to be insanely expensive, either. There's something about a wedding tent event that invites a more casual approach. It really is the perfect ambiance for some creative and homemade alternatives to the stiff formality of a reception hall event. With that in mind, here are 5 inexpensive and easily put together decorative elements perfectly suited for outdoor wedding tent events.
Flowers By The Bucket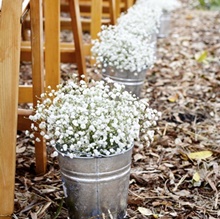 Florists love it when couples want flowers lining the aisle (Cha-ching!), but all those arrangements can put a big dent in a wedding budget. If you're hosting an outdoor wedding or reception, though, there's no need for formal arrangements in fancy vases. The photo to the right shows how striking something as simple as Baby's Breath in small, galvanized aluminum buckets can be. You can find live, seasonal flowers at any nursery or home improvement store's garden center. When the reception is over, give out the plants to your bridesmaids and grooms…or plant them along the walkway of your home.
...But Can He Spell?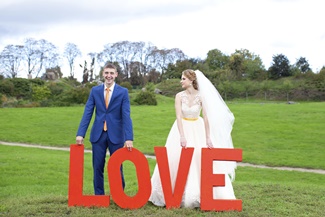 Large letters (available at craft stores like Michael's and Hobby Lobby) make a great prop for guests to pose for photographs. The obvious choice, of course, is "LOVE." Another option is a giant ampersand ("&") sign. Couples can pose holding it between them. If you have a photographer on hand, a compilation of photos of every couple in attendance makes a great photo book. You can take the photos anywhere, but if you want a consistent backdrop you can set up a "photo stand" in front of a section of tent sidewall. (You can rent one sidewall for your tent, or as many as you want.) Leave your tent sidewall backdrop white or decorate it by draping multicolored tulle from the top of it.
The Multi-Talented Mason Jar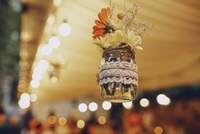 Mason jars aren't just for preserving fruits and vegetables. They also make great candleholders and flower vases. Set them on tables or wrap thin wire around the neck of the jar and fashion a loop on opposite sides. You'll use this loop to tie thin rope or twine to for suspending them from the frame of your tent—just make sure they're up high enough so no one whacks a head into them. We recommend using tea light candles inside the jar, and filling the jar about halfway with sand or rocks in order to make lighting (or relighting) the candles easier. These small candles will burn for about 5 hours, which should be plenty of time for your event.
Do Something Cool With Tulle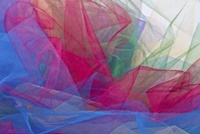 Tulle may well be the unsung hero of wedding décor, as well as the most confounding to pronounce (saying it like "tool" is the correct pronunciation). Tulle is inexpensive, readily available at craft stores, comes in a multitude of colors, and is easy to work with. Drape it from the framework of a frame tent, make flowers with it, create colorful balls or decorative ribbons for seatbacks and pew bows, even use it as skirting on tables. Youtube is a great source for tutorials on ways to make wedding decorations with tulle. Here's a good one on how to drape a tent for dramatic effect.
Petal Power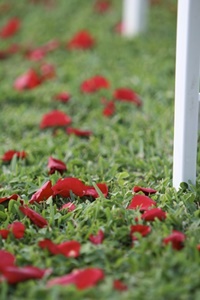 You don't need to have a flower girl strewing flower petals down the aisle. You can decorate the aisle before guests even show up. The cost of flower petals is far less than whole flowers, and the effect is quite impressive. As for pricing, you can get 5 bags of rose petals (approximately 5,000 petals) from Sam's Club for $96 (at the time of this article). You need about one bag (1,000 petals) per 3' wide by 4' length of aisle. As one reviewer commented: "You WILL NOT run out of petals unless you're doing something monstrous with them." If you have more than 20 feet of aisle to walk down, you can leave the first part of the aisle petal-less.
Now, About That Wedding Tent...
If you're looking to host an outdoor wedding reception, we highly recommend renting an event tent. Whether you're planning a small gathering of family and friends, or anticipating a crowd in the hundreds, our three rental locations have a tent just for you.
A good place to start is with our Wedding Reception Party Tent Packages. Each package is sized for the number of guests you plan to invite and includes the tent, tables and chairs. Once you've decided on a package, you can add on other rental items like tables and chairs, wedding decor, food and beverage service equipment, a dance floor...you name it, chances are we have it.
To get a better idea of everything available, browse our Products pages.
Quick Links to Our Most Popular Rental Items:
Madison Party Rental serves the Madison area and surrounding cities, including:

Cottage Grove, Dane, Deerfield, Dodgeville, Cambridge, Fitchburg, Fort Atkinson, Janesville, Kegonsa, Lake Mills, Middleton, Mt. Horeb, McFarland, New Glarus, Pine Bluff, Spring Green, Stoughton, Sun Prairie, Oregon, Paoli, Verona, Vermont, Waterloo, Waunakee, Whitewater, Wisconsin Dells

Brookfield Party Rental serves the greater Milwaukee area, including:

Brookfield, Bayview, Brown Deer, Delafield, Elm Grove, Fox Point, Franklin, Germantown, Glendale, Grafton, Greendale, Hales Corners, Lannon, Menomonee Falls, Mequon, New Berlin, Oconomowoc, Pewaukee, Port Washington, River Hills, St. Francis, Shorewood, Sussex, Wauwatosa, Whitefish Bay