Concession Rentals for Parties in Milwaukee & Madison
. All prices subject to change without notice.
Rent Concession Equipment & Supplies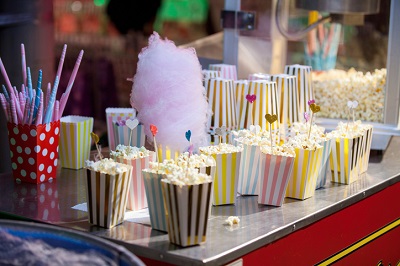 Nothing says summer party like the smell of fresh concession foods!
Brookfield Party Rental & Madison Party Rental have a great selection of the most popular concession equipment perfect for kids parties or adult-only gatherings.
Contact us to rent a:
Popcorn machine
Sno cone machine
Nacho cheese dispenser
Hot dog warmer
We also rent a wide variety of food and beverage service items including pitchers, glassware, plates, linens, disposables and much more. Our party supplies for rent also include tables, chairs, party tents and everything else you need to throw together a fun and affordable outdoor bash.
Get a quote on concession equipment rentals or book a party package online and add concessions and other party supplies at checkout:
Nacho Cheese Dispenser 2.0 Operating Instructions
Take one bag of product and a disposable valve from the product case and unwrap it. Date bag with permanent marker. Set bag on a hard surface with spout up. Line the rounded end of the piercing tool with the rounded end of the spout. Place fingers alongside of piercing tool, using your thumbs to apply pressure to the piercer until it punctures the bag. Remove piercing tool, and store by hanging inside the back of the dispenser. Insert the valve.
Line the curved edge of the valve with the curved edge of the spout. Use your thumbs to apply pressure to the valve until it snaps tightly into place. When installed correctly, valve cannot be removed.Important: Before loading bag into the dispenser, place the bag on a hard surface, open the slider valve and press down gently until all excess air is removed. A second bag can be preheated when the first bag is one third empty. Close the valve. Sauce will leak from the bag and dispenser if the valve is not closed completely.
Place black receiving plate in place at bottom of dispenser pan. With the fitment end closest to you, and facing downward, lower the full bag into the machine. Feed the valve through the black receiving plate and allow it to settle into the dispenser.
Place cover on dispenser. Sauce takes 60 - 90 minutes to heat to dispensing temperature of 140°F, once heated it should flow freely when depressing the button.
Fun Foods for Kids of All Ages
A tent event is an inherently fun and festive occasion. While fancy foods are always welcome, there is also a place for what is generally known as "fun foods." Popcorn, Sno Cones, cotton candy—these are the kind of irresistibly fun treats everyone loves, especially children.
Whether you're hosting a wedding reception or a child's birthday party, we have the equipment you'll need to loosen the tie on your guest's taste buds. Equipped with popcorn poppers, Sno Cone and cotton candy machines, hot dog warmers and nacho cheese dispensers, your event becomes a culinary carnival for anyone with a sweet tooth and a sense of nostalgia.
For more information or a quote, contact the location nearest you:
Madison Party Rental

Serves the Madison area and surrounding cities, including:

Cottage Grove, Dane, Deerfield, Dodgeville, Cambridge, Fitchburg, Fort Atkinson, Janesville, Kegonsa, Lake Mills, Middleton, Monona, Mt. Horeb, McFarland, New Glarus, Pine Bluff, Spring Green, Stoughton, Sun Prairie, Oregon, Paoli, Verona, Vermont, Waterloo, Waunakee, Whitewater, Wisconsin Dells

Brookfield Party Rental

Serves the greater Milwaukee area, including:

Brookfield, Bayview, Brown Deer, Delafield, Elm Grove, Fox Point, Franklin, Germantown, Glendale, Grafton, Greendale, Hales Corners, Lannon, Menomonee Falls, Mequon, Milwaukee, New Berlin, Oconomowoc, Pewaukee, Port Washington, River Hills, St. Francis, Shorewood, Sussex, Wauwatosa, Whitefish Bay