Rentals for Backyard Weddings
The ideal alternative to large weddings at expensive venues, backyard Wisconsin weddings are becoming increasingly popular. More couples are opting to ditch the stress of traditional weddings in favor of customizing their own backyards or family homes to suit their style and their budget. If you're curious about the benefits of having a backyard wedding or reception, you're in the right place.
In Praise of the Backyard Wedding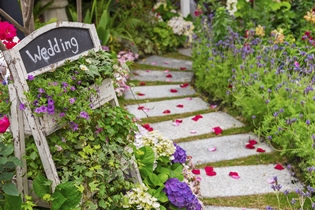 Backyard weddings give you endless customization options. From tents, tables and chairs to linens and tableware, you get to choose the look you truly want and keep it within your budget. You don't have to worry about paying more for upgrades at your venue or spending huge sums of money on decor you'll never see again. Instead, you can buy lawn games, decor and outdoor tableware you'll use for years to come.
7 Things To Love About Backyard Weddings
Dress it up or dress it down! You can make a backyard wedding as casual or as formal as you want it to be.
You can customize everything without paying premiums you'd run into with a venue.
Backyard weddings make it easy to include children or pets.
Sentimental value! You can choose to have your wedding and/or reception at your home or a family member's home and enjoy the happy memories there in the years ahead.
Your wedding will be completely unique and not comparable to anyone else's.
Take all the money you would have spent on a venue and save it or use it toward other expenses.
All the comforts of home will be there for you on your wedding day.
Frequently Asked Questions About At-Home Weddings

Is having a backyard wedding reception cheaper than renting a venue?
In most cases, yes. Small-ish weddings/receptions for 30 or fewer guests tend to price out below the cost of renting a venue. Just keep in mind there's a difference between having a simple backyard wedding and transforming your yard into a stately wedding venue and having tons of guests. If you stick to a budget, the cost of having a backyard wedding reception will almost always be lower than hosting your wedding reception at a venue.
With the money you save by having a backyard wedding, you can easily afford a caterer and a really special meal, or you can bank the savings for a down payment on a house, having a family or paying off loans.
Is a backyard wedding right for me?
If you and your fiance prefer low-key get-togethers over formal events and feel more comfortable with a small group of friends and family, a backyard wedding is probably right in your wheelhouse. A backyard wedding can also be perfect for you if you and your fiance love the idea of your wedding and/or reception being held outdoors and want to create your own lavishly decorated fairytale oasis.
Is a backyard wedding tacky?
Definitely not. The beauty of backyard weddings is they're whatever you make them. If you want classy, candlit elegance, you can create it for way less money than you'd pay a venue.
Simple decorations and lighting go a long way in creating your desired ambiance (a wedding tent helps, too!).
What's the best way to feed guests at my outdoor wedding reception?
For a casual reception, a grill-out is always a hit. Steak, burgers, lobster--whatever! If your grill is small or has seen better days, it's a good idea to rent a grill. We have both propane and charcoal grills large enough to cook for dozens of guests at a time.
Having a food truck at your wedding is becoming increasingly popular around Milwaukee, Madison and Appleton. At Madfox Party, we can help you find the perfect food truck catering option(s) for your event. If there's a food truck you really like, chances are they'll be agreeable to catering your backyard reception.
Whether you choose to have a catering company, a food truck or a homemade meal at your backyard wedding reception, we rent china and flatware for all your outdoor food setup and serving needs.
Do you need a permit for a backyard wedding in Wisconsin?
Check with your local city hall. Most municipalities in Wisconsin have regulations concerning noise, parking, lighting and curfew, so you need to find out what your local rules and regulations are and work around them. If your property or the property you're considering is governed by a homeowner's association, you'll also need to look into their policy on backyard events.
Do you need insurance to host a wedding reception in your backyard?
It may seem ridiculous, but yes, you need insurance for a reception. If someone at your celebration has too much to drink and gets in an accident on the way home, you/the property owner can be held responsible. You may think none of your friends would ever implicate you in a lawsuit, but huge hospital bills have a way of changing things. You can also be sued by whoever was injured by a guest who was driving while intoxicated.
When you rent a venue, their liability insurance is included with the rental. When you host an event, you're responsible for the insurance. Some homeowner policies may include a small amount of coverage, but in most cases you'll need to purchase insurance for the day of your event. Several companies specialize in event insurance, and you can easily purchase event insurance online. We highly recommend you purchase insurance for your backyard wedding and reception, even if you're having a small reception.
What about pest control?
Insects, especially flies, can be annoying and unappetizing. Hanging traps with fly or mosquito bait in trees the day of your wedding will help divert pests from your buffet.
Essential Rental Party Supplies for a Backyard Wedding
If you're hosting a reception for more than a dozen close friends and family, you're going to need more than the old card tables in the basement and a couple of picnic benches. Here are the basic supplies you need for your backyard Wisconsin wedding. You can find all the rental party supplies you need at all 3 of our party rental store locations.
It would be great if every day were sunny and 72-degrees, but this is Wisconsin. There's no way to know what the weather will be like on your big day. With a tent, you get shelter from the rain and protection from the sun. An added bonus to having a tent for your backyard wedding reception? Tents look magical in the evening when you decorate them with string lights.
We have tents to fit virtually any size yard. For uniquely spaced yards, a few 10' x 10' or 20' x 20' high peak frame tents work perfectly. Browse all our tents for weddings, or choose from our wedding tent rental packages (which include tables and chairs).
If you're having a backyard wedding ceremony, you'll want white chairs. We have four types of white party chairs for rental, ranging from a molded plastic bistro style chair to classic white folding chairs.
Wedding arches, pillars for unity candles, guestbook stands and hurricane lamps all add a decorative touch to a wedding.
China, Flatware and Glassware Rentals
If you're serving food, renting the dishes, utensils and glassware is much easier than using your own, and much more befitting a wedding than using paper plates and plastic cups.
Food and Beverage Service Rentals
If you're not having a caterer bring in food for your event, it's a good idea to rent a few chafing dishes to keep food hot and chill tables to keep salads and desserts cool.
Staging and Dance Floor Rentals
If there's going to be music and dancing, a dance floor is always a good idea. Just let us know what size dance floor you need- we have dance floors in a range of sizes!
If you're hosting your celebration in a warm weather month, we highly recommend renting a few fans. We have both pedestal fans and fans to mount on the support legs of a wedding tent.
Will your event run into the evening? Our selection of hurricanes will give your tables a romantic glow. We also have globe lights for stringing around the support frame of a tent and LED PAR lights perfect for creating dramatic, colored lighting accents on the ceiling of your wedding tent.
If you're renting tables, you're going to need linens. Our standard linen color is white, but we have a few addditiional color options available as well.
Questions? Comments? Contact our Wisconsin wedding rentals location nearest you:
Madison Party Rental serves the Madison area and surrounding cities, including:

Cottage Grove, Dane, Deerfield, Dodgeville, Cambridge, Fitchburg, Fort Atkinson, Janesville, Kegonsa, Lake Mills, Middleton, Mt. Horeb, McFarland, New Glarus, Pine Bluff, Spring Green, Stoughton, Sun Prairie, Oregon, Paoli, Verona, Vermont, Waterloo, Waunakee, Whitewater, Wisconsin Dells

Brookfield Party Rental serves the greater Milwaukee area, including:

Brookfield, Bayview, Brown Deer, Delafield, Elm Grove, Fox Point, Franklin, Germantown, Glendale, Grafton, Greendale, Hales Corners, Lannon, Menomonee Falls, Mequon, New Berlin, Oconomowoc, Pewaukee, Port Washington, River Hills, St. Francis, Shorewood, Sussex, Wauwatosa, Whitefish Bay