5 Ways To Beat The Heat At An Outdoor Tent Event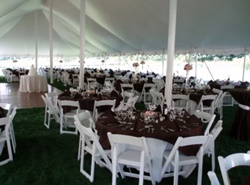 If you're planning a summer event, especially one where your guests will be dressed up in formal attire, you may be wondering how to keep the tent comfortable if the day of your event turns out to be oppressively hot and humid. Although there's no way of getting a party tent cooled down the way you can cool a house with an air conditioner, there are things you can do to make it more comfortable for your guests. Here are five tips for dealing with summer heat:
1.Take Advantage of the Shade
While we cannot pitch a tent directly under tall trees due to the risk of branches and limbs falling on the tent, we can help you choose a spot that will take advantage of shade produced by nearby trees, buildings or embankments. Even the late afternoon shade produced by a low sun behind a large tree 20 feet away can make a difference. Our setup crew can advise you on how to maximize whatever shade you have on your site.
2. Avoid Asphalt Wherever Possible
An asphalt parking lot may seem like the perfect location because it offers a flat floor and solid footing. Unfortunately, asphalt makes for a very hot floor in summer. You know how hot a parking lot gets? Imagine being in a party tent with a roof keeping all that heat inside. A tent set up on grass will be much cooler, and it won't require drilling holes in the parking lot to stake the tent. If you are concerned about having grass for a floor, you can rent flooring from us.
3. Maximize Air Circulation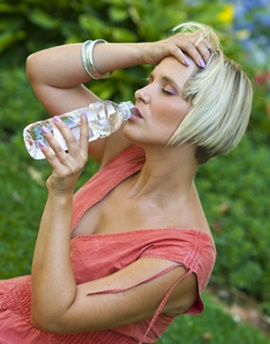 Your bar isn't fully stocked unless you have plenty of water on hand. Keeping your guests hydrated is especially important on hot days.
Sidewalls on party tents look great, no doubt. But if your tent is buttoned up tight on a hot day, it's going to get intolerably hot inside. If you do rent tent sidewalls, just let our setup crew know you'd like to leave one or two unmounted on each side of the tent to get some cross ventilation going. Speaking of ventilation, if you're not familiar with the natural air currents at the site, ask someone familiar with the location which way the wind usually blows and have your tent set up to take advantage of that air flow.
4. Set Up Fans
Stand-alone fans can make a huge difference in comfort. The basic principle here is that warm air circulating around the tent is much more comfortable than hot air with no breeze. Position two fans close to an entrance to pull outside air into the tent, and a few more in strategic locations throughout the tent. Ah, relief! Bottom line: If you're going to rent a tent for a summer event, go ahead and rent pedestal fans while you're at it. If you do not have access to AC outlets to power the fans, we also rent generators.
5. If Possible, Time Your Event For Later In The Day
One of the easiest ways to minimize the heat in your tent is to hold your event later in the day, when the summer sun isn't as intense. Starting your event at 4:30 pm instead of high noon will definitely make a difference.
Wisconsin Party and Event Tent Rental Company Has Everything You Need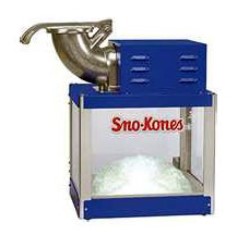 A Sno-Kone machine is a great way to keep guests cool. And, yes, we have them available for rent!
Planning a wedding reception, a graduation party, or some other kind of outdoor event? We can help.
From our locations in Madison and Brookfield, we supply party tents, food catering equipment, tables and chairs, and just about everything else you could possibly need for an outdoor event.
Yes, even Sno-Kone and slushie machines!
Let us know what sort of event you're planning and we'll help ensure you have the right size tent, an adequate number of chairs and tables, and even fans to help keep everyone cool.
You can also check out our party rental packages, which include the basics: a tent, tables and chairs. From there, you add on any extras you may want, such as fans, lighting, a grill...anything in our huge inventory!
Quick Links to Party Rental Packages:
For more information or assistance, contact the location nearest you:
Madison Party Rental

Serves the Madison area and surrounding cities, including:

Cottage Grove, Dane, Deerfield, Dodgeville, Cambridge, Fitchburg, Fort Atkinson, Janesville, Kegonsa, Lake Mills, Middleton, Mt. Horeb, McFarland, New Glarus, Pine Bluff, Spring Green, Stoughton, Sun Prairie, Oregon, Paoli, Verona, Vermont, Waterloo, Waunakee, Whitewater, Wisconsin Dells

Brookfield Party Rental

Serves the greater Milwaukee area, including:

Brookfield, Bayview, Brown Deer, Delafield, Elm Grove, Fox Point, Franklin, Germantown, Glendale, Grafton, Greendale, Hales Corners, Lannon, Menomonee Falls, Mequon, New Berlin, Oconomowoc, Pewaukee, Port Washington, Racine, River Hills, St. Francis, Shorewood, Sussex, Wauwatosa, Whitefish Bay