Things to Consider When Planning an Outdoor Wedding
Weddings are supposed to be happy occasions. Unfortunately, the months leading up to them often push both bride and groom (and everyone in their orbit) to the breaking point. Amidst the agony of a thousand decisions, brides-to-be can turn into raging bridezillas, while grooms-to-be may feel their feet getting a bit cold.
But it doesn't have to be that way. With sufficient advance planning, you can avoid the maelstrom of chaos in the last two months before a wedding. Or, at least, a good portion of it.
"If you fail to plan, you are planning to fail."
-Benjamin Franklin
How Far Ahead of the Big Day Should You Start Planning?
Most wedding planners will tell you at least a year, although a small, no-frills backyard wedding can often be sorted out in a 6-month timespan. If you're planning a big reception, it's a good idea to have a wedding planner to help out.
Although wedding tents are not typically booked a year in advance the way indoor wedding venues are, you don't want to wait until a month or two before your wedding day to line up a wedding tent rental. We'd suggest locking in a tent rental 6 months in advance. Of course, before you do this you'll need to have a location lined up.
Where to Host an Outdoor Tent Wedding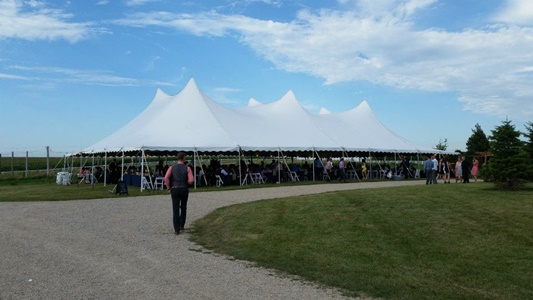 Location is as relevant for weddings as it is for real estate. Where you host your big day is a major factor in the success of your event.
The backyard of a parent's house is always a good choice—you know it'll be available and there's no fee to rent the space—but it's worth considering other locations, too. For instance, many local parks will allow a wedding on their grounds. You'll need a permit, of course, so if there's a park you like try contacting them and inquiring about their policy on weddings.
If you're planning a large wedding reception and no backyard or park is going to work due to the sheer number of cars that will need to find a place to park, consider the farm down the road (this is Wisconsin, there's bound to be a farm somewhere nearby.) Many farmers will gladly rent out a field for a one-day event like a wedding, assuming you'll have a clean-up crew to pick up any mess left behind.
With just about any outdoor location (except maybe for some parks), you're going to need to rent Porta-Potties. So, factor that into your planning, too. And because you can never know what sort of weather you'll have the day of your event, you need to rent a tent. Don't assume a June wedding will be nothing but blue skies and sunshine. There's no way to tell 6 months ahead of your wedding what the weather will be like. So, we repeat: You need to rent a tent.
What Kind Of Tent Should You Rent for an Outdoor Wedding Reception?
One from us, of course! Seriously, if you're planning an outdoor reception anywhere in the Milwaukee, Madison or Brookfield areas, we'd love to help you out. A good place to start, though, would be our Wedding Tent Rental Packages. These packages are sized by the number of guests and include enough tables and chairs for everyone.
There are three types of tents used for outdoor events: pole tents, frame tents and free-standing tents. Here's a quick overview of each type:
Pole tents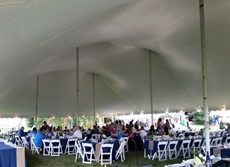 Pole tents are so named for the long poles in the center of them that support the canopy overhead. They're also known as tension style tents, because the canopy is tensioned over the support poles. The photo above shows a pole tent set up in a scenic setting. In the photo to the left, you can see the soaring ceiling inside the tent. This makes it the perfect canvas for colored uplights.
If you're planning a big wedding with 100+ guests, you will probably want a pole tent. It really is the classic wedding tent. One thing to keep in mind: pole tents require anchor cables and staking, so if you don't like the idea of cables extending 7-feet on all sides, consider a frame tent.
Pole tents range in size from 40' by 60' to 60' 80', and can be set up in a long row for really large events. Although you might not think so from looking at them, they are exceptionally stable tents.
Frame tents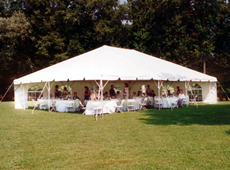 Frame tents are named for the metal frame on which the tent canopy is stretched. The frame extends around the perimeter of the tent, with tensioning poles rising up to elevate the roof of the tent.
One of the big advantages of frame tents is they rarely require staking. Instead, barrels of water or sandbags can weight the tent legs to keep it stable on windy days. (NOTE: the photo to the left shows a frame tent that has been staked.)
A frame tent can be set up on either grass or pavement, and since there are no support poles the entire interior space is open. This allows you to set up the interior of the tent in any way you like, without concern for support poles getting in the way.
The drawback of frame tents is that the metal frame structure can be seen from inside the tent. Many wedding decorators hide this with long runs of gauzy fabric, but this tends to be an expensive fix.
Free-Standing Tents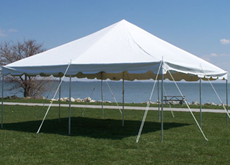 Free Standing tents are usually smaller frame tents, ranging from 10' by 10' to 20' by 20' tents. These are great for small receptions. If one isn't enough, two or three can be combined—which makes them perfect for awkwardly shaped locations where a larger tent simply won't fit. We've set these tents up in rows, on diagonals and chessboard style with open areas between them. The effect is quite charming.
These tents are also great as a secondary tent. Positioned near or directly at the entrance to a larger tent they provide a great place to position greeters or to have a table with the guest book. Of course, if you are planning a small reception and just need a sheltered area outdoors for the ice chests, or for the kids to play, these tents are a great choice. We offer a couple of Free-Standing Frame Tent Packages, both with enough tables and chairs appropriate to the size of the tent.
Even If You Don't Rent A Tent, You'll Need Chairs and Tables
In recent years, it has become trendy to hold a wedding reception in a barn or a large, industrial warehouse type of space. In many cases, these venues don't include tables and chairs. No worries! We rent both the classic white folding chairs (as well as a white bistro style chairs and folding Samsonite chairs) and both rectangular and round tables. Table linens? We've got them. Flatware, china and glasses? Got them, too. Chafing dishes and food trays? Ditto. World renowned chef? Um, no. That's one thing we can't help you with.
Quick Links to Our Most Popular Rental Items:
Need Help? Get in Touch with Our Wisconsin Event Tent Rental Experts
If you could use a little help figuring out all the things you'll need for your reception, let us know. While we aren't wedding planners, we can definitely help you figure out what you'll need and how many of each to order. So, feel free to email or call us.
Before it turns into a bridezilla situation!
For more information or assistance, contact the location nearest you:
Madison Party Rental serves the Madison area and surrounding cities, including:

Cottage Grove, Dane, Deerfield, Dodgeville, Cambridge, Fitchburg, Fort Atkinson, Janesville, Kegonsa, Lake Mills, Middleton, Mt. Horeb, McFarland, New Glarus, Pine Bluff, Spring Green, Stoughton, Sun Prairie, Oregon, Paoli, Verona, Vermont, Waterloo, Waunakee, Whitewater, Wisconsin Dells

Brookfield Party Rental serves the greater Milwaukee area, including:

Brookfield, Bayview, Brown Deer, Delafield, Elm Grove, Fox Point, Franklin, Germantown, Glendale, Grafton, Greendale, Hales Corners, Lannon, Menomonee Falls, Mequon, New Berlin, Oconomowoc, Pewaukee, Port Washington, River Hills, St. Francis, Shorewood, Sussex, Wauwatosa, Whitefish Bay