Do You Need Insurance For a Wedding Reception in Wisconsin?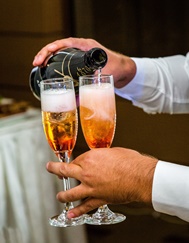 In a word, yes. Insurance protects you against lawsuits arising from unforeseen accidents and injuries. If a guest is injured from tripping over something at your event, or has a few too many and gets in an accident driving home, you can be sued. Also, if you're holding your event in a park or a rental facility, insurance coverage is almost always required.
If you're thinking there's no way any of the BFFs you've invited to your wedding would sue you because they got drunk and crashed their car on the way home, you may want to reconsider. No matter how good a friend, allegiances can change quickly in situations like this. Also, consider what might happen if one of your guests has an accident on the way home and injures someone else. There's little doubt you'll be sued by the injured party.
Will A Homeowner's Insurance Policy Cover A Backyard Wedding?
Yes…and no. In all likelihood, it will cover a backyard ceremony and reception. However, if you plan on serving alcohol, you probably need to increase your liability limits or see if you can add an umbrella policy to your coverage. Because everyone's insurance is different, you should contact your agent and explain what you have planned.
You may find out your homeowner's policy just won't be adequate for the potential problems that can arise from hosting an event. Or, as if often the case, you may not even have homeowner's insurance because you don't own a home yet. And if you're hosting the reception at a public park or other public place, your homeowner's policy isn't going to cover it.
Don't fret, you have options here…specifically:
Event Insurance for Weddings and Receptions in Wisconsin
We don't offer event insurance, but there are several insurance companies offering event insurance online. Eventinsurancenow.com, wedsafe.com and eventhelper.com all offer policies with varying levels of coverage. Prices vary depending on the number of guests, the amount of coverage and the deductible.
As a test, we filled out the online form on eventhelper.com for a wedding reception with 100 guests and got a price just under $105. The policy had a $1,000 deductible and provided a $2 million "general aggregate" (the maximum amount paid on all claims arising from an event). You can see the breakdown of coverage in the screen below: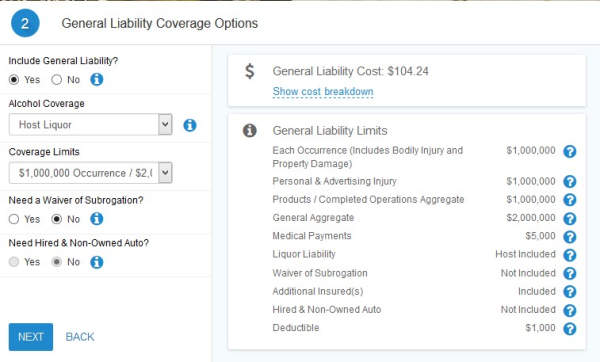 Their policies didn't offer "Weather and Disaster Coverage" in Wisconsin, and there was no coverage for "amusement devices, inflatables, rides or animals." Other insurers, like wedsafe.com, do offer a Cancellation/Postponement option (which could apply to a reception cancelation due to extreme weather). For $15,000 of cancellation coverage, the cost was $180. (Note: prices may change from the time of this writing.)
We don't get a lot of customers asking us about insurance for their wedding reception, but whenever the subject comes up our advice is to just bite the bullet and get coverage. The $100 to $300 you'll pay for insurance is well worth the peace of mind that comes from knowing if something terrible does happen, you won't take a disastrous financial hit for it.
What About Everything Else You Need for a Wedding Reception?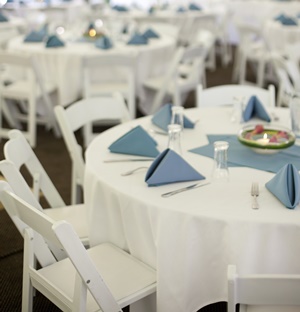 If you're planning an outdoor ceremony or reception, don't take your chances on Mother Nature cooperating on the big day. This is Wisconsin, after all. You really need to rent a wedding tent--not just for shelter in the event of rain, but also for shade on a hot day. Whether you just need a small tent for a wedding reception with family and friends or need a pole tent large enough for 150 guests, we have you covered. Literally.
If you're already planning a wedding, a great place to start is with our Wedding Reception Party Tent Packages. Each package includes a tent, tables and chairs based on the amount of guests you plan to invite. From there, you can add on other rental items as needed: wedding décor, food and beverage service equipment, lighting…you name it, we have it.
Related articles:
Madison Party Rental serves the Madison area and surrounding cities, including:

Cottage Grove, Dane, Deerfield, Dodgeville, Cambridge, Fitchburg, Fort Atkinson, Janesville, Kegonsa, Lake Mills, Middleton, Mt. Horeb, McFarland, New Glarus, Pine Bluff, Spring Green, Stoughton, Sun Prairie, Oregon, Paoli, Verona, Vermont, Waterloo, Waunakee, Whitewater, Wisconsin Dells

Brookfield Party Rental serves the greater Milwaukee area, including:

Brookfield, Bayview, Brown Deer, Delafield, Elm Grove, Fox Point, Franklin, Germantown, Glendale, Grafton, Greendale, Hales Corners, Lannon, Menomonee Falls, Mequon, New Berlin, Oconomowoc, Pewaukee, Port Washington, River Hills, St. Francis, Shorewood, Sussex, Wauwatosa, Whitefish Bay