How To Pull Off A Successful Winter Tent Event
From the Wisconsin party tent rental experts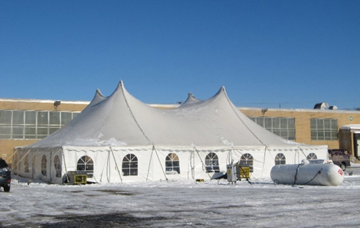 It's the middle of March, you're in Wisconsin thinking you'll get that dream spring wedding but Mother Nature has other plans—think 6 feet of snow and subzero temps in what's supposed to be spring.
Wisconsin weather is brutal and unpredictable, with MadFox party rental, you can always be prepared.
Madfox is located in both Brookfield and Madison. We offer winter tent rentals at affordable rates for just about any event: winter weddings, birthdays, December graduations, and large holiday celebrations too.
Don't know where to start?
Winter Tent Planning Guide
With a little extra planning, there's no reason a tent party in winter can't be just as fun and memorable as one held in warmer weather. Here are a few suggestions to keep your winter tent event from turning into a freeze out.
How to heat a tent in winter
Body heat won't cut it when the weather dips below 20—you'll need a specific tent heater to keep your guests comfortable and having a good time. But what goes along with that? First things first, you'll need:
The right size heater for your tent
Propane to fuel the heater
A generator to power the heater
Floors to keep you insulated
How big of a heater do I need for a tent?
It depends on how big of a tent you're renting and what temperature it is outside. There's a formula for calculating how big of heater you'll need—in some instances, it might be easier to rent two smaller heaters to keep the whole space warm.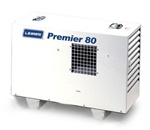 EXAMPLE: To keep a 40' x 80' tent at a comfortable 65 degrees when it is 20 degrees outside, you will need a heater capable of 61,245 BTU. Our 80,000 BTU heater would work fine and would give you some extra oomph if the temperature feels more like 10.
Choosing a heater is just too important to take chances on. For this reason, we are happy to make recommendations on what size heater (or heaters) will work best for your event and your budget. Just let us know and we will make sure you get what you need to keep your tent comfortably warm for your event.
Can you use a propane heater in a tent?
Yes—with proper ventilation. You'll want to get propane heaters for your large winter tent because they work best to get guests comfortable and keep them that way.
The best winter tent needs the best propane—the one that fits the heater needs, and a backup that will keep it going. For events lasting 4 to 6 hours, we recommend you get at least 40 lbs. of propane. We would also recommend a few free-standing heaters (also fueled by propane.) Placed around a dining area, these really help keep your guests comfortably warm.
Where can I rent a generator for my tent?
Right here. MadFox has all the party tent rental tents and fun you want, with all the equipment you need.
Do I need a floor for my winter tent?
No, you don't need one, but you'll wish you had one. By mid-winter, the ground in Wisconsin has almost completely frozen. Meaning those parking lots you've been eyeing up to host your outdoor event might be like stepping on an ice rink with heels.
MadFox can roll out the PortaFloor to provide some insulation against the cold, hard ground. You can set up a dance floor on top too, to keep your guests moving and entertained.
Winter tent basics
Prepare for the worst, always. There's nothing like having your guests show up to your winter wedding but they can't get in because nobody shoveled a path.
We've seen it all—that's how we know the products you need to keep the party going. Set yourself up with snow shovels and ice melt just in case the weather turns sour right before the event.
Add some fans—and not the hype-man kind. Renting fans on pedestals can help circulate the warm air throughout the tent so you don't burn as much propane and your guests are always comfortable.
Emergency Plan—in the event of an emergency, you're going to want to make sure guests can get out safely in a timely manner. Rent a bullhorn to make managing any evacuation easier.
How to set up a winter tent
You'll want to make sure your tent is properly sealed to keep the cold out and to ensure your heaters don't have to work twice as hard. Sidewalls should be secured at the top and the bottom of the tent to keep the gusts out.
Give your guests a stylish entrance with one of our tent doors or hallways. This helps connect your outdoor space with your indoor space, gives your guests time to warm up before the hit the official space, and keeps your tent warm for the whole event duration.
Connecting an Event Tent to a Nearby Building for a Winter Event
For this event, the hosts wanted their guests to be able to get into the main building without having to traipse across a snow and ice-covered parking lot. We connected a series of small frame tents together and added sidewalls to create a protected corridor from the event tent to the building.
If you don't need a connecting corridor like this, at least consider an entry tent to help keep out some of the cold air that can get inside the main tent from guests entering and exiting. We can set up a 10' x 10' or 20' x 20' high peak frame tent with sidewalls at the entrance to your main tent.
| | | |
| --- | --- | --- |
| | | |
| Full view of winter tent | Overhead view of the connecting corridor. | View of the corridor from inside building. |
Rent a Winter Tent Package to Make it Easy
To simplify the whole process of ordering a tent and heater, we've put together three winter tent rental packages. These packages are sized for events ranging from 16 guests to 100. Each package includes the appropriately sized tent, sidewalls, weights for anchoring the tent and a heater.
Our winter tent packages all use frame tents, since these do not require putting stakes in the ground to anchor them. If you prefer a pole tent (like the one shown in the photo on this page), be aware that if the site of your event is a parking lot or other paved surface we have to drill holes in the pavement to secure the anchors. These can be filled in with asphalt later on. However, if you don't have permission for us to drill into someone's parking lot, you'll have to opt for a frame tent.
While pole tents offer a soaring ceiling height, a frame tent is most often chosen for a winter event due to the fact the location is usually a paved surface and the owners don't want holes drilled in it in the middle of winter. Sure, we can set up a pole tent on grass, but if it snows the day before we set up the tent you'll be shoveling snow off the grass. It's a lot easier to plow a paved surface than it is to shovel snow off a lawn or a field.
The one drawback to a frame tent is that the metal support structure around the perimeter of the tent and overhead is visible. If you're planning a fancy wedding, you might find it looks a bit too industrial. There are ways to camouflage this with layers of draped fabric.
Winter Tent Rental Packages
What size tent do I need?
Small

16x16 Frame tent (16 to 30 people, depending on interior setup)

Sidewalls

Heater

Weight for anchoring

$625, Including setup and take down (Delivery extra)

Medium

20x20 Frame tent (30 to 40 guests, depending on interior setup)

Sidewalls

Heater

Weight for anchoring

$749, Including setup and take down (Delivery extra)

Large

20x40 Frame tent (65 to 100 guests, depending on interior setup)

Sidewalls

Heater

Weight for anchoring

$949, Including setup and take down (Delivery extra)
(In case you're wondering, yes, we can also put together a package with a larger tent.)
For more information or a quote, contact the location nearest you:
Madison Party Rental

Serves the Madison area and surrounding cities, including:

Cottage Grove, Dane, Deerfield, Dodgeville, Cambridge, Fitchburg, Fort Atkinson, Janesville, Kegonsa, Lake Mills, Middleton, Monona, Mt. Horeb, McFarland, New Glarus, Pine Bluff, Spring Green, Stoughton, Sun Prairie, Oregon, Paoli, Verona, Vermont, Waterloo, Waunakee, Whitewater, Wisconsin Dells

Brookfield Party Rental

Serves the greater Milwaukee area, including:

Brookfield, Bayview, Brown Deer, Delafield, Elm Grove, Fox Point, Franklin, Germantown, Glendale, Grafton, Greendale, Hales Corners, Lannon, Menomonee Falls, Mequon, Milwaukee, New Berlin, Oconomowoc, Pewaukee, Port Washington, River Hills, St. Francis, Shorewood, Sussex, Wauwatosa, Whitefish Bay