Party Animals Agree: Our Party Rentals Rule!
While many of the events our customers host are so epic they are only spoken of in hushed tones with a "you just had to be there" footnote, we often receive heartfelt notes of appreciation for our services. These notes remind us what all the hard work is for: The joy of bringing people together at special events.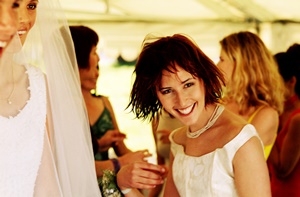 In a world where customer service is increasingly becoming little more than a quaint anecdote of a pre-internet era, we still believe in doing whatever it takes to make your special event truly special. We hope the letters and emails we share here say it better than we can.
Contact our Wisconsin party tent rental specialists for more information on the best event tents and equipment in the Madison and Brookfield areas.
THE party place
This is THE party place in the Brookfield and Milwaukee areas. Equipment is in good order, the staff friendly, knowledgeable and competent. Pricing is very reasonable and affordable.
The owner is a community minded entrepreneur who has helped me with different community projects for several years now, such as supplying tents & chairs/tables for The Gilbert Brown All Star Football Camp in Milwaukee. A great guy running a good business with good employees.
Everything Went Perfectly
We can't say enough about the great job that Madison Party Rentals did for our daughter and son-in-law's wedding on July 8! Their staff worked efficiently and tirelessly to ensure that everything went perfectly--despite a very warm set up day. Special thanks to Suman and Patrick who kept our additional requests in order, Drew and his set up crew and to Joe, who worked late on Friday night to make sure everything was perfect! We chose this company based on a recommendation from a family member who used them in 2016 and we were not disappointed. Pricing was competitive and service was great! Thank you again and we will certainly recommend you to everyone!
Very Polite and Affordable
Very polite and affordable. They helped make our event a huge success!
No Drama
Rented 150 chairs and some tent sides for our event. No drama, easy to work with, know their equipment well.

They dropped off and picked up at the park on schedule. Delivery personnel called to ask where we'd like the stuff delivered so it was convenient.


Great Staff, Selection, Company
Great staff, great selection, great family company!


Nothing but a good experience for us!
I had NO problems working with Brookfield Party Rentals! The ordering, delivery, and setup went great! I have family members that had bad experiences with another local party tent company, so I chose them based on the reviews I have read from different sources on the web. I liked the online ordering system, a lot. The young men that came to set-up did a awesome job and were courteous. The tent was in great shape, and the tables were newer along with the chairs. Nothing but a good experience for us.


Everything was great
Everything was great from beginning to end--had the graduation package where we got the tent, chairs, & tables. Sadly, the day of our event it rained off & on for most of the day. But that's the chance you take with outside events. Still, methinks that several of our teen guests were quite fond of that tent, despite the weather. As soon as we announced that we were moving things inside, several of them took off! Also, the workers who installed our tent were A-1.
These guys are great!
These guys are great! They really made our special day stress free when it came to the tent, chairs and tables. We also needed to have the tent picked up early and they were super helpful and accommodating. I would recommend this place to anyone throwing a party.
Everything Went Smoothly
We used Madison Party Rentals for a big tent, tables, and chairs for an outdoor backyard wedding. The whole process - from asking questions on the phone to picking up the items after the event was over - went very smoothly. There wouldn't be anything I would change. Thanks Madison Party Rentals.
Great Experience!
We used Madison Party Rental for our outdoor wedding ceremony (tent and chairs). We had a great experience! Prices beat other area competitors. The staff was very helpful in helping us decide which tent option would be best. We also went back and forth for several days on whether or not we should cancel our tent (chance of rain kept changing and we preferred not to have a tent for our ceremony unless we needed it) and they were INCREDIBLY patient with me through that. I was always promptly sent an updated copy of our invoice whenever our order needed to be adjusted, which I really appreciated.
Very Easy To Work With
Always very easy to work with, great service! We've had Fox Cities Party Rental help us with several corporate events and it's always been a seamless process. Highly recommend.
Awesome Company
Awesome company with friendly and knowlegeable staff! They've helped me many times and they always bring creative ideas to the table.
Thank You For The Great Service
Thank you for the great service!
Very professional
We want to thank you and your workers for helping us celebrate our 50th year. You and your staff were very professional and on time for our needs. You made our event a great success.
Everything Looked Great
We wanted to thank you for all the hard work you and your staff put in while setting up our tent and chairs for the wedding. Everything looked great and we received a lot of compliments.
Very Happy With Service
I just wanted to drop you guys a note to tell you what a great job you did. Thank you! I was very happy with your service.
Spectacular Day
Thanks to you (and a little help from the weather) we had just a spectacular day on Saturday. Thanks for all of your help and flexibility. You will be highly recommended.
Pleasure To Work With
I want to sincerely thank you and your team for your wonderful service and products for our recent company picnic. You were a pleasure to work with and your on-site employees were extremely helpful and friendly.
Great Job On Short Notice
Thank you and your staff for the great job in getting the tents, tables and chairs set up with such short notice. you certainly made our President's visit a success.
Splendid Delivery And Setup
Thank you for a splendid delivery and set up. The tent, chairs, tables, stage and dance floor--all perfect--just what we wanted. The crew who set up and took down did a great job. You made our occasion. All the above doesn't mention the comfort you gave with patient replies to the numerous phone calls I made. Thank you again,