Tent Accessory Rentals
. All prices subject to change without notice.
Make Yourself Comfortable
Rent Lighting, Generators, Heaters and Fans for Your Canopy Tent Event
By their very nature, event tents cannot possibly provide all the comforts of home. However, a judicious deployment of power generators, heaters and fans will make your tent a thoroughly enjoyable setting for a wedding reception, anniversary party, auction or any other event you envision.
Our Brookfield and Madison party rental stores offer 6000 watt and 7500 watt portable generators. These are gasoline-fueled generators which run for about 7 hours on one tank of gas. (Yes - we refill propane tanks!) One of these is usually sufficient to power the lights and appliances for most tents. If you are planning to add a couple of inflatable bounce houses, you'll need a dedicated generator to run the air compressor for them.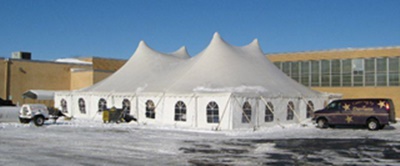 If your event will take place during colder months, a tent heater (or two) will keep frostbite from setting in. Seriously, no one wants to attend a wedding reception which becomes the Donner Party. Besides 80,000 and 170,000 BTU tent heaters, we also have a 40,000 BTU patio heater. (Incidentally, "BTU" does not stand for "Better Turn it Up!" It's actually an acronym for British Thermal Unit.)
For warm weather events, maintaining air flow through the tent is essential. Our pedestal fans have been proven far superior to native Polynesian women waving large palm fronds, though perhaps not quite as attractive. We also offer smaller (12" diameter) fans that conveniently attach to tent poles. With one of these at every corner of a tent, you will have good cross ventilation to help keep your guests cool.
If you need help determining how many fans, heaters and generators for your tent, as we suspect you might, we are happy to assist.
What Size Tent Heater Do You Need?
For events held in cool weather months such as early spring or fall, a few patio heaters may be all you need. Although called "patio heaters," these can be safely used inside tents—or even outside of tents if you have a bar area outside your tent. They provide adequate heating in moderately cool temperatures.
Patio heaters run on propane and will give you a good 5 to 6 hours of heating. If you anticipate needing heat for more than this, we can make sure you have extra propane to refuel. Once fired up, our 40,000 BTU Zubri propane patio heaters will heat an area of about 18' to 20'. Obviously, you'll want to place the patio heater(s) toward the center of your tent in order to distribute the heat. Also, you need ample clearance around the heater to minimize the risk of fire.
For events held in winter, you'll need one of our more powerful propane tent heaters. Although these heaters burn propane to make heat, because they use a fan to disperse heat they require electricity to keep running. If you can run an extension cord from your home or business, this will work fine. If there isn't access to electricity on your site, you will need to rent a generator.
Generally, it's recommended to have one heater for every 1,200 to 2,000 sq. ft. of tent space. So, for instance, if you have a 30 x 40' tent (1200 sq. ft), you'd be fine with just one heater. However, there's a big difference between a chill in the air in early fall and a bone numbing cold in early February. Once we know what time of year your event is taking place and what size tent you'll be renting, we can better advise you on what size of heater you'll need.
Available Generators:
6000 Watt Generator
7500 Watt Generator
Available Heaters:
80000 Btu Tent Heater
170000 Btu Tent Heater
Zubri Patio Heater 40000 Btu
Rhino Patio Heater
Yes, we refill propane tanks! Contact our Brookfield location for full details and pricing.
For more information or a quote, contact the location nearest you:
Madison Party Rental

Serves the Madison area and surrounding cities, including:

Cottage Grove, Dane, Deerfield, Dodgeville, Cambridge, Fitchburg, Fort Atkinson, Janesville, Kegonsa, Lake Mills, Middleton, Monona, Mt. Horeb, McFarland, New Glarus, Pine Bluff, Spring Green, Stoughton, Sun Prairie, Oregon, Paoli, Verona, Vermont, Waterloo, Waunakee, Whitewater, Wisconsin Dells

Brookfield Party Rental

Serves the greater Milwaukee area, including:

Brookfield, Bayview, Brown Deer, Delafield, Elm Grove, Fox Point, Franklin, Germantown, Glendale, Grafton, Greendale, Hales Corners, Lannon, Menomonee Falls, Mequon, Milwaukee, New Berlin, Oconomowoc, Pewaukee, Port Washington, River Hills, St. Francis, Shorewood, Sussex, Wauwatosa, Whitefish Bay