Why You're Going To Rent A Party Tent For Your Next Backyard Get-Together (And Be Darn Glad You Did!)
You might think party tents are just those cavernous tents used for big wedding receptions and fairs. While larger events like these are definitely our bread and butter, we also rent smaller frame tents and pop-up canopy tents perfect for all kinds of smaller events. If you are planning any kind of backyard get- together, a tent is a great addition.
5 Reasons To Rent A Tent For Your Backyard Party:
Shelter from the rain. If it rains the day of your event, you have two choices: 1) Cram everyone into your living room or 2) Cancel. Ah, but if you rented a tent you could go ahead and have everyone over. Renting a tent is like buying insurance for your party. Whether the weather cooperates or not, you're ready.
Shelter from the sun. Let's say you luck out and have a perfect, sunny day for your event. That's great, but sitting in the sun can get uncomfortable really quickly. Your guests will end up in your house just to get out of the sun. A tent provides welcome relief from the harsh rays of the sun. If you're planning a summer event, it's also a good idea to rent a pedestal fan or two to keep air circulating under the tent.
Keeps food covered. A tent helps keep birds and flying insects from dropping in on your food. It's also helpful to keep your cooler and perishables in the shade. Although you can't put your grill under a tent, you can position it a few feet away outside the tent. It's not like you have to stand over it constantly anyway.
Ambiance. A tent creates a unique and appealing ambiance, one which can be easily enhanced with the addition of lighting and decorations. Just putting a string of those small, white holiday lights around the frame of a tent creates a festive glow. Candles on tables is another great way to create an ambiance under your tent.
Tents keep your party intact. A tent provides a focal point for your party or event. Instead of people splitting off into different groups and scattering all over your yard, a tent encourages your guests to stay together in one spot.
What Kinds Of Tents Work Well For Backyard Events?
You have two options: a small frame tent or what's known as a "pop-up" style tent. A frame tent has a metal frame around the perimeter of the tent canopy, while a pop-up tent has an collapsible metal frame that literally pops up as you set the tent up.
The Pop-up Tent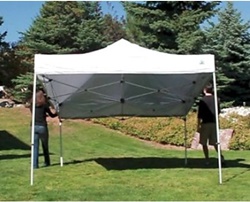 We offer a 10' x 10' and a 20' x 20' pop-up canopy tent. These tents are designed for easy setup. You can quickly set one of these up with the help of a friend or spouse. (Check out the video on how to set up a pop-up tent on our Customer Set-Up tents page)
If you've ever been to a local farmer's market or an outdoor flea market, you've probably seen this type of tent. Many outdoor vendors use pop-up tents to ward off the brutal rays of the sun when they're outside for hours on end. If you're still in the process of deciding between a pop-up tent and frame tent, it's probably worth checking out your local famers market to get a closer look at what these tents look like.
One thing about these tents: You'll need a pickup truck or an SUV to transport these tents (especially the 20' by 20' tent). If you don't have a vehicle large enough, don't worry. We offer delivery.
The Small Frame Tent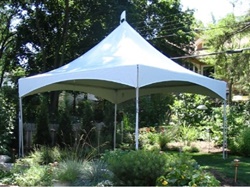 We offer a 10' by 10', a 16' by 16' and a 20' by 20' frame tent for small events. In most cases, these Hight Peak frame tents do not need to be secured by anchor ropes, but they can be if necessary. Chances are you won't need anything larger than a 20' by 20' tent for a backyard barbecue, but if you do we have plenty of options for larger tents.
If you're hosting an event that will run into the evening, we'd recommend a frame tent over a pop-up tent simply because the frame tent doesn't have a collapsible frame structure directly overhead the way a pop-up tent does. This makes it easier to mount lights around the perimeter.
Take a close look at the Pop-up Tent photo above--you can just make out the collapsible frame structure on the ceiling of the tent. Although you can intertwine a string of lights on the ceiling, the metal frame of a frame tent works better for mounting lights around the perimeter of the tent canopy.
See Free Standing Tent Rental Packages: The Perfect Choice for Backyard Parties.
What Else Should You Rent When You Rent A Party Tent?
For most small gatherings, there isn't a huge need for much besides the tent itself. You probably already have some patio furniture. If you don't have an outdoor table and some chairs already, or don't have enough, you'll probably want to rent some. We can help with that. In addition to both round and rectangular tables, we have a great selection of folding chairs for rent.
Beyond tables and chairs, we'd recommend pedestal fans if you're holding your event during the day and perhaps a chill table if you need to keep picnic foods cool over an extended period of time. If you want more light than a string of holiday lights will provide, we'd also suggest our globe lights. These are designed to mount on the frame around the perimeter of a tent
Need help figuring out what size tent to rent, or what additional items you'll need? Get in touch with our party rental professionals and we'll help you get it all sorted out.
Consider Renting a Party Tent Package Sized for Decks or Driveways
While you can take rent a small tent like the ones above and use your own tables and chairs (or rent them from us), you can also rent a complete package from us. At the time of publishing this article, we have two free-standing frame tent rental packages available: a 10' by 10' tent package and a 20' by 20' tent package.
The 10' 10' tent package comes with three bar height tables, 12 bar stools and a 6' banquet table. It's sized just right for a deck or a small patio. The 20' by 20' package comes with six 8' banquet tables (with linens) and 48 black folding chairs. It's sized to fit over a large patio or a driveway, although you can also set it up in your yard.
Madison Party Rental serves the Madison area and surrounding cities, including:

Cottage Grove, Dane, Deerfield, Dodgeville, Cambridge, Fitchburg, Fort Atkinson, Janesville, Kegonsa, Lake Mills, Middleton, Mt. Horeb, McFarland, New Glarus, Pine Bluff, Spring Green, Stoughton, Sun Prairie, Oregon, Paoli, Verona, Vermont, Waterloo, Waunakee, Whitewater, Wisconsin Dells

Brookfield Party Rental serves the greater Milwaukee area, including:

Brookfield, Bayview, Brown Deer, Delafield, Elm Grove, Fox Point, Franklin, Germantown, Glendale, Grafton, Greendale, Hales Corners, Lannon, Menomonee Falls, Mequon, New Berlin, Oconomowoc, Pewaukee, Port Washington, River Hills, St. Francis, Shorewood, Sussex, Wauwatosa, Whitefish Bay