Rent A Party Tent For A Tailgate Party? Oh, You Betcha.
In Wisconsin, fall means one thing: football...and with it, tailgate parties. While many fans rough it with just a cooler, a portable grill, and a few chairs, others go all out with party tents, bars, crowd-size grills and big screen TVs. And why not? Tailgating festivities are so much fun many tailgaters don't even go into the stadium to watch the game.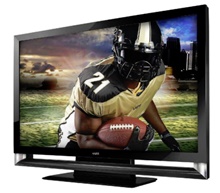 No tickets for the game? Rent a big screen TV!
If you're thinking of taking your tailgating up a notch this football season, our Madison, Brookfield and Appleton party rental stores have everything you need. While a tent isn't exactly considered a necessity, it offers welcome protection from the elements. (This IS Wisconsin, after all.) Just as importantly, a tent makes a statement that you take your tailgating seriously.
What Kind Of Tent Do You Need For A Tailgate Party?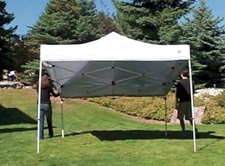 It really depends on how many guests you're anticipating. If it's just you and a few buds, our 10' x 10' pop up tent will work fine. You can easily set one up with the assistance of a friend, and if you have an SUV or a pickup truck, you can easily transport it yourself--all the way to the Lambeau Field parking lot if you want.
If you need more room, consider renting two pop-up tents. Or go bigger with a 10' by 20' or 20' x 30' frame tent. Keep in mind, though, larger tents will require setup by our crew. If you have a spot picked out on campus or near the stadium, you'll want to make sure you have the necessary permit for an event tent (we can advise you on this.)
Host Your Game Day Festivities Under A Party Tent
Of course, you don't have to be tailgating at a stadium to have a football game tent party. We can set up a tent in a backyard, parking lot or even the middle of a field. Setting up in the backyard is a great alternative to having everyone crammed in your living room and wandering through your house during the game. Just have the tent set up over your patio or deck. With a tent in your backyard, you can even move a sofa or two inside it. Frigid weather worries? Sidewalls on your tent and a tent heater will keep it comfortable inside.
Essentials and Extras For A Tailgate Tent Party
While you may be able to get by with just a cooler and a small grill, anyone planning to spend game day under a tent should give some thought to staging a proper party. The three sample packages below are just to give you an idea of what's possible. In you're wondering about plates and cups, we recommend the disposable kind (which we don't carry).
Just The Basics
Stepping Up
Livin' Large
20' x 30' frame tent
35 Samsonite black folding chairs
Three 6' x 30" banquet tables
Two Super Coolers (each holds a half-barrel keg or 7 cases)
Two Ice Chest Coolers
6 ft propane grill, two sets of tongs
Tent sidewalls on 3 sides
Two propane patio heaters
If you have questions about coordinating all the things you'll need for a game day tent party, just ask. We can help you sort out what size tent you need and which accessories are essentials.
For more information, contact us at the location nearest you:
Madison Party Rental serves the Madison area and surrounding cities, including:

Cottage Grove, Dane, Deerfield, Dodgeville, Cambridge, Fitchburg, Fort Atkinson, Janesville, Kegonsa, Lake Mills, Middleton, Mt. Horeb, McFarland, New Glarus, Pine Bluff, Spring Green, Stoughton, Sun Prairie, Oregon, Paoli, Verona, Vermont, Waterloo, Waunakee, Whitewater, Wisconsin Dells

Brookfield Party Rental serves the greater Milwaukee area, including:

Brookfield, Bayview, Brown Deer, Delafield, Elm Grove, Fox Point, Franklin, Germantown, Glendale, Grafton, Greendale, Hales Corners, Lannon, Menomonee Falls, Mequon, New Berlin, Oconomowoc, Pewaukee, Port Washington, River Hills, St. Francis, Shorewood, Sussex, Wauwatosa, Whitefish Bay