Colors, Shapes & Heels: Three Totally Unrelated Things To Consider When Planning a Wedding Reception
Every fall, the Pantone Color Institute releases their pick of the colors they foresee designers using in their collections the following spring. We know you've been holding off on any decisions until you know exactly what the "in" colors for spring will be. At last, the long wait is over! According to Pantone, here are the hot colors for 2017. And the Color of the Year award goes to..."Greenery."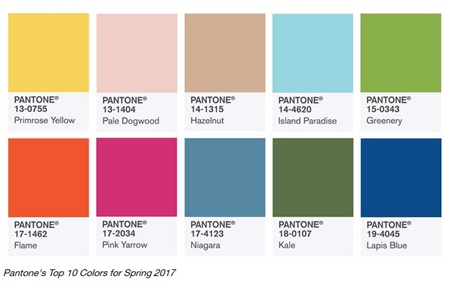 Unfortunately, we don't have any party tents in these colors and have no plans to have them dyed. However, we do rent LED PAR lights which can be programmed to approximate (or at least complement) many of these colors. Jus

t in case you go with any of these colors as your theme.
We also have a great selection of disposable vinyl tablecloths. White linens are the traditional choice for a wedding, of course, and we have those. But we're seeing more couples opt for bolder colors. When you coordinate other decorative elements with your table linens, the effect is really quite impressive.
A white wedding is fine. If you're not bound to tradition, though, adding a bit of color creates a more lively atmosphere that's perfect for the unconventional setting of a party tent.
Go for it!
Choosing a Shape and Size For Your Party Tent
You might think choosing a tent for your event is just a matter of figuring out how much space you need for the number of people on your guest list. Well, actually, size isn't everything. It's worth giving some thought to the shape of the tent you rent, too. Why, you ask? Two reasons: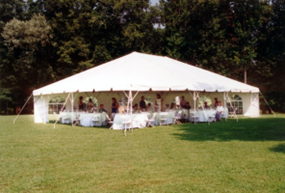 First, a square shaped tent makes it easier for all your guests to feel included. Because everyone is more or less equidistant from the center of the tent, no one feels left out of anything, as they might in the back part of a rectangular shaped tent.
Second, a square shaped tent—and we're talking frame tents, not pole tents—has a higher ceiling than a rectangular tent with comparable square footage. For instance, a 40' by 60' square (or square-ish) tent will have a higher ceiling than a 30' by 80' rectangular shaped tent. Besides giving the tent a larger feel, the higher overhead will also help keep the tent cooler, which is definitely something to consider if your reception is held in our warmer months.
For maximum space and heat dissipation, though, our recommendation would be to rent a pole tent (aka "tension tent"). These tents are supported by tall poles in the center of the canopy. The soaring height of the tent not only helps dissipate heat, but also makes for a dramatic interior space (especially when lit up with multicolored uplights).
Stabilizing Your High-Heel Wearing Guests
If your wedding proceeds like most weddings, you'll be getting married somewhere other than the wedding tent you rent. After the ceremony, you and your guests will proceed to the reception. Right?
The thing is, most of the ladies will be decked out in their finest—including high-heeled dress shoes. When they try to walk on grass, it's instant disaster. Heels sink into the soft grass, ankles twist uncontrollably, and the next thing you know women are sprawled unceremoniously all over the lawn.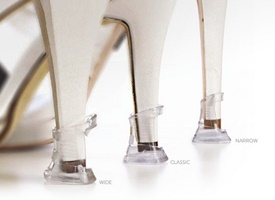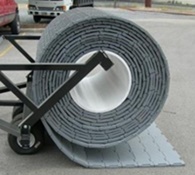 Fortunately, there's a solution. Two actually.
First: Leave a large bowl full of heel savers at the entrance to your tent. Heel savers, in case you didn't know, are little plastic doo-dads that fit over the base of high-heeled shoes to provide stability on soft surfaces like grass and sand. There are several varieties available. Solemates makes a good one, as does Heels Above, but there are plenty of options out there.
Another solution worth considering is putting down a floor in your tent. While you could conceivably rent a dance floor and cover the entire interior area of your tent with it, this isn't the most practical solution. Instead, we recommend PortaFloor.
PortaFloor is a temporary flooring material that rolls out on top of grass (or pavement) to provide a uniformly smooth floor. This is also a good thing to consider if you're holding a tent reception in the dead of winter, since it puts a layer between your feet and the frozen ground underneath.
Final Thoughts on Planning Your Wedding Reception
Two words: Start early. There are thousands of decisions ahead of you and what will seem like a gazillion details to sort out. Most couples allow at least a year. In many cases, the planning starts right after the engagement. While that's admirable, why not give yourselves some time to just enjoy the engagement before jumping into something that's inevitably going to stress you both out?
When you do start planning, you can always count on us if you have any questions about rentals for your reception.
Related Articles:
Mobile-icious: Food Trucks Bring Flavor and Fun to Wedding Receptions
5 Budget-Friendly Wedding Tent Decoration Ideas
5 Ways to Beat the Heat at an Outdoor Tent Event
For more information or assistance, contact us at the location nearest you:
Madison Party Rental serves the Madison area and surrounding cities, including:

Cottage Grove, Dane, Deerfield, Dodgeville, Cambridge, Fitchburg, Fort Atkinson, Janesville, Kegonsa, Lake Mills, Middleton, Mt. Horeb, McFarland, New Glarus, Pine Bluff, Spring Green, Stoughton, Sun Prairie, Oregon, Paoli, Verona, Vermont, Waterloo, Waunakee, Whitewater, Wisconsin Dells

Brookfield Party Rental serves the greater Milwaukee area, including:

Brookfield, Bayview, Brown Deer, Delafield, Elm Grove, Fox Point, Franklin, Germantown, Glendale, Grafton, Greendale, Hales Corners, Lannon, Menomonee Falls, Mequon, New Berlin, Oconomowoc, Pewaukee, Port Washington, River Hills, St. Francis, Shorewood, Sussex, Wauwatosa, Whitefish Bay