Coming of Age Parties for Girls: Keep Calm and Rent a Party Tent
Wisconsin Party Tent Rentals for Sweet 16, Quinceanera, Debut and Bat Mitzvah Parties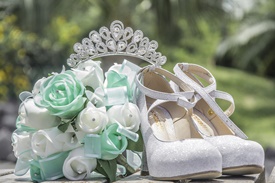 The changing of shoes from flat soles to high heels during the Quinceanera symbolizes a young girl's transition into adulthood.
Almost everyone with a daughter is well aware of the traditional coming of age celebration that accompanies a young girl's transition into adulthood. For most American girls, it's the Sweet Sixteen party. For Hispanic girls, it's the Quinceanera (Spanish for "15th"). In Filipino culture, it's known as the Debut party (held at age 18). And in the Jewish faith, it's the Bat Mitzvah (which is celebrated on the girl's 12th birthday).
Budgeting for a Sweet 16 Party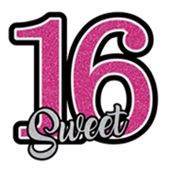 Whether it's a Sweet 16 party or a Quinceanara, the celebration is often accompanied with a more than a little parental anxiety…particularly over the cost of the party. There is often tremendous social pressure to host a lavish party, which understandably puts a lot of stress on parents and their relationship with their daughters.
It helps to start by deciding what your total budget for the party will be. Set a limit for how much you can afford, then consider all the expenses—which usually includes invitations, transportation, decorations, music (live or DJ), favors for guests and, of course, a gown for your daughter. Since most families do not have Trumpian budgets, there are always going to be compromises.
One of the biggest expenses is renting a venue for the event. While locations range from places as mundane as the local community center to no-expense-spared venues such as 4-star hotels, most of these celebrations fall somewhere in between. It's important to keep in mind that what really matters is the gathering of friends to celebrate the event—and this doesn't require a fancy hotel.
There are plenty of affordable alternatives to glitzy venues. A party by a lake, for instance, can make for a fun day of swimming, kayaking or renting a pontoon boat for a cruise. Afterward, guests can enjoy a cookout. It could also be one of the county parks in your area, or even your own backyard (more on this later). Of course, we'd highly recommend a party tent for shelter from the sun (and any impromptu downpour).
Why A Party Tent is Perfect for a Sweet 16 Party (or Quinceanera, Debut or Bat Mitzvah)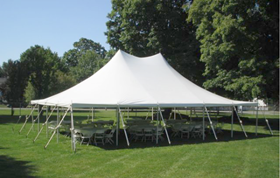 For those looking for something different, as well as affordable, a tent party may be the ideal setting. In addition to the affordability factor, there are some other compelling reasons for both parents and daughters to consider it.
1. It's just the right size. That's because you can choose just the size you need for the amount of guests you've invited. If you're only hosting a small group of your daughter's BFFs, you can rent a 20' by 10' frame tent. Planning a big shindig for a hundred BFFs? Consider renting a 40' by 100' tent.
2. A party tent creates a unique and festive ambiance. A party tent is an inherently fun setting for any event, and distinctly different from the more conventional venues of event halls and hotels. It also offers the opportunity to hold the party in unique settings—by a lake for instance, or out in a scenic field in the countryside (ideal if the party will involve a DJ and a loud sound system).
3. A party tent can be easily customized. One of the great things about a party tent is the ability to decorate it as you please. With a little creativity, the interior can be transformed with draping, balloons, crepe paper, and tulle. Holiday lights, and dramatic colored uplights are easy ways to create a unique ambiance at night. While we rent tables and chairs, you can also set up a comfy living room ambiance with your own sofas, chairs and coffee tables.
4. It works great in your backyard. Having a party tent in your backyard puts everyone close enough to the creature comforts of home (and parental supervision), but with far more room and privacy than if the party were held inside your house.
Fun Add-Ons For Your Party Tent Rental
In addition to things like food and beverage service rentals, our three Wisconsin party and event rental stores also offer a wide variety of add-ons. You start by choosing one of our party tent rental packages (we suggest a Build Your Own package). After you've entered your zip code to get pricing, you can choose from a wide range of add-ons. These are just a few of the more fun options:
Inflatable movie screen & LCD Projector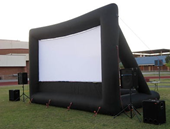 Project old home movies and/or photos of your little girl on this massive inflatable screen, watch a favorite movie, or set it up to project a live feed of the dance floor. You'll need an LCD projector, which we have. Our techs will set it up so all you have to do is push "Play."
She may not be a little girl anymore, but she still likes to have fun. Besides, there may be some younger princesses in attendance. A castle themed bounce house is a fun way for all the girls to cut loose. For even more silliness, consider renting pony hop inflatables.
Whether it's the father-daughter waltz or someone showing off a back spin, a dance floor is essential. Our indoor/outdoor dance floor is a sturdy plywood topped with a vinyl in the style of wood parquet. We also rent indoor dance floors for events held indoors.
Sno-cone makers, cotton candy machines, popcorn machines, nacho cheese machines—we've got 'em all!
Related Articles:
5 Ways to Beat the Heat at an Outdoor Tent Event
Mobile-icious: Food Trucks Bring Flavor and Fun
For more information or assistance, contact us at the location nearest you:
Madison Party Rental serves the Madison area and surrounding cities, including:

Cottage Grove, Dane, Deerfield, Dodgeville, Cambridge, Fitchburg, Fort Atkinson, Janesville, Kegonsa, Lake Mills, Middleton, Mt. Horeb, McFarland, New Glarus, Pine Bluff, Spring Green, Stoughton, Sun Prairie, Oregon, Paoli, Verona, Vermont, Waterloo, Waunakee, Whitewater, Wisconsin Dells

Brookfield Party Rental serves the greater Milwaukee area, including:

Brookfield, Bayview, Brown Deer, Delafield, Elm Grove, Fox Point, Franklin, Germantown, Glendale, Grafton, Greendale, Hales Corners, Lannon, Menomonee Falls, Mequon, New Berlin, Oconomowoc, Pewaukee, Port Washington, River Hills, St. Francis, Shorewood, Sussex, Wauwatosa, Whitefish Bay