Food Service Rentals
. All prices subject to change without notice.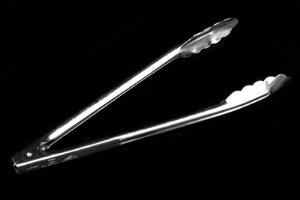 Tongs
View Details
Rent Food Service Equipment for Parties, Wedding Receptions, Festivals and Corporate Gatherings
Events held under large party tents require extraordinary quantities of food, and serving this food requires a mind-boggling array of culinary conveyances and appliances. Fortunately for you, figuring out exactly what's needed for an event is one of the things our Wisconsin party tent rental experts do all the time. We'll help you sort out everything from butane burners and bus tubs to chafers and chill tables.
Make Any Event Tastier With A Grill
Whether you're serving hot dogs and hamburgers or steak and lobster tails, everything is more delicious when cooked on a grill. A grill also creates a special ambiance outside the tented area where gentlemen can gather to loosen their ties, partake in a cigar and freely discuss matters of sports and government.
We offer three sizes of grills, two which run on propane and one on charcoal. If you will be serving guests over an extended period of time we recommend going with a propane grill. With propane, there's no need to replenish the charcoal and no wait time for the charcoal to burn down a bit before grilling. Charcoal is a great choice if your group will all be dining at the same time and you prefer the flavor of charcoal-cooked food. The coals will last plenty long enough to cook for a large group of guests.
Grill sizes:
5ft x 2ft (Charcoal)
6ft x 2ft (Propane)
3ft x 2ft (Propane)
We have virtually every food service item your event could possibly require—from basic essentials like salt & pepper shakers and bread baskets to roll-top chafing dishes and tabletop roaster ovens. More importantly, we have the experience necessary to know exactly which food service items you'll need for your event, and in what quantities. Just tell us a bit about your event and what you'll be serving, we'll take it from there.
In fact, why not contact us today and get this job in the oven?
Chill Table Salad Bar
Salt & Pepper Shakers
Bread Basket
Bus Tub
Chafer 6 qt. Round
Chafer 6 qt. Oval
Chafer 8 qt. Rectangular Single
Chafer 8 qt. Rectangular Double
Chafer Roll Top
Cambro Chafer Pan Holder
Lap Tray
Tray, Stainless 15"
Pancake Griddle 16" x 24" LP
Nesco Roaster
NOTE: We also refill propane canisters! Visit our Facebook page and "like" it for a $3 discount on a 20lb.propane tank refill. (Let staff know when you come in for refill.)
Contact our Wisconsin event rental experts for assistance with ordering food service equipment for your Milwaukee, Fox Cities or Madison area event.