Chairs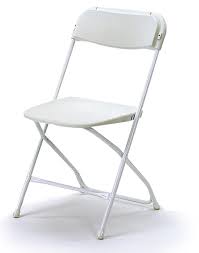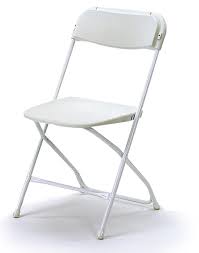 Region information is required for pricing
. All prices subject to change without notice.
White Folding Metal Chair Rentals
These white, folding metal chairs are a favorite for wedding receptions, although we can imagine them also being a popular choice for nurses conventions.
If you're renting these chairs for an indoor event, you'll be glad to know they are equipped with rubber caps on their feet to minimize the racket caused by those guests who, for whatever reason, have to drag their chairs across the room to another table. Rubber-tipped feet also avoid damage to the floor of your venue--no small bonus if you've rented out an upscale banquet hall that charges for damage to their property.
While there is a backrest on these chairs, it is a molded plastic backrest. Also, the seating area is metal. In short: Don't rent these chairs if you intend to hold your guests hostage for a lengthy timeshare pitch. For the duration of a wedding ceremony or a luncheon, however, most posteriors will tolerate these seats without complaint.
If you're looking for something more tushie-friendly, we would suggest our white folding resin chair with padded seat or the natural wood folding chair with padded seat. For business meetings, the grey fanback chair with padded seat is an excellent choice.
Select white metal folding chairs as an Add On with any of our tent rental packages, or request a quote on chair rentals.