Bar, 4ft Portable White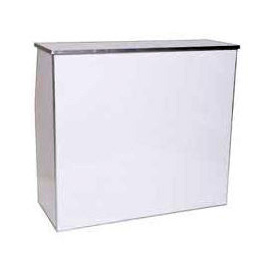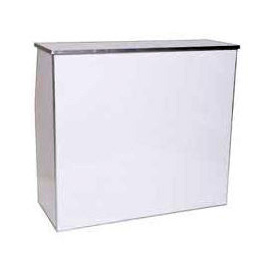 Region information is required for pricing
. All prices subject to change without notice.
4-Foot Portable Bar in White
If you're planning a wedding reception and need a bar, why not stick with the white theme and rent this 4-foot bar? At just 4-feet across, it's probably not the best choice for an event with a huge crowd, but you can always rent two and set them side by side.
Whatever you do, don't cheap out and try to make do with a banquet table for a bar. Your bartender will despise you, and your attempted bar will inevitably become a cluttery mess of bottles, swizzle sticks, dirty napkins, and half-eaten hors d'ouevres dropped off by guests who (understandably) have no idea the table is actually the bar.
Ok, so now you know you need a bar, but what if you don't want a white bar? Well, we do have a portable bar (on rollers) that's black and an 8' black bar made out of wood. But we can easily put a blue or black table skirt around the white bar if you prefer a different color. Whatever your event, we'll help you make sure your bar is dressed appropriately.