Inflatable, Pony Hops (set of 12)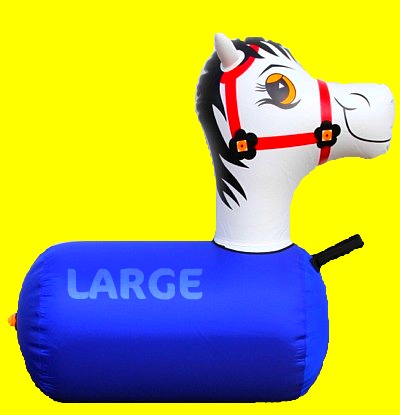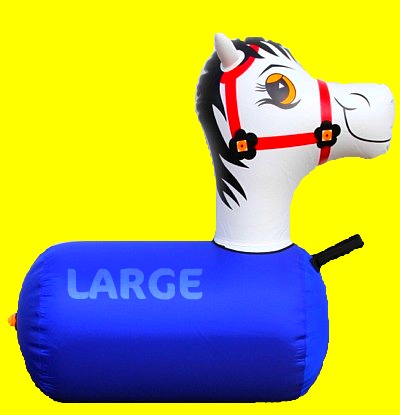 Region information is required for pricing
Extra delivery cost added to all orders. Delivery cost is calculated during checkout.
Get The Party Hopping with Pony Hops
Maybe you remember those Hippity Hop bouncy ball toys from when you were a kid. Well, the Pony Hop operates on the same principle: Kinetic energy of kid bouncing on it moves it forward. Only the Pony Hop simulates riding a horse, which is inherently much more fun than bouncing around on a ball. Safer, too, since the smiling, friendly face of Hoppy the Horse will hit the ground first in the event of a face plant.
If you're hosting a birthday party, you'll want to rent a few of these and stage pony races around the yard. Watching the kids having a blast bouncing, you'll inevitably wish you could fit on a Pony Hop, too. Good news: You can! Thankfully, the makers of Pony Hops make them in three sizes to accommodate everyone from 3-year-olds to hoppers age 13 and up.
Ok, wait, we know what you're thinking: won't the weight of a full-grown adult bouncing around on one of these result in a horrendous Pony Hop explosion? No! Amazingly, all sizes of Pony Hops can withstand up to 750 lbs. of rider. Unless a crane is required to get you out of your bed, you can ride a Pony Hop, too!
Why should little kids have all the fun? Order up a dozen Pony Hops for the next company picnic!
Rent Pony Hops in Three Sizes:
Small, for 3 to 6-year-olds
Medium, for 7 to 12-year-olds
Large, for 13-year-olds and up