If A House Concert Is Held in A Tent, Is It Still A House Concert?
If you're not familiar with the term "house concert," it's just what the name implies: a concert held at a house. Obviously, house concerts are quite a bit smaller than the typical concert venues of auditoriums and large halls, which is the whole idea. Typically, house concerts are held in living rooms. Depending on the size of the living room, 20 to 40 guests get to see the performers up close and even mingle with them.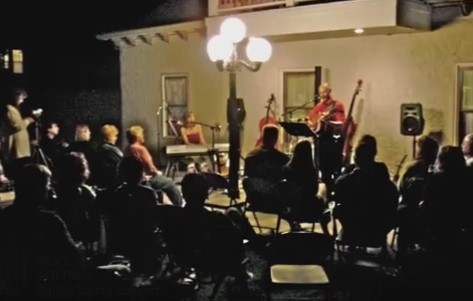 But back to the question raised in the headline: Yes, even though a house concert takes place in a tent, it's still at someone's house and, therefore, can still be considered a house concert.
The past few years have seen a big surge in the popularity of house concerts, which some attribute to the demise of many small, acoustic music oriented venues. Many homeowners have wanted to host a house party, but just don't have a big enough living room. This is where a modest-sized tent comes to the rescue.
As long as you don't have neighbors who might complain, setting up a party tent in your back yard for a house concert is a great alternative to cramming a bunch of people into your living room.
What About The Noise Levels From A House Concert Under A Party Tent?
When we talk about house concerts, we're not talking about ear deafening heavy metal acts. The performers who typically do house concerts tend to be acoustic singer-songwriter types, although small bands also do them. So, the volume doesn't reach the "I'm gonna call the cops" level. Still, if you live in close proximity to other houses it would be a good idea to let your neighbors know ahead of time what you have planned. It wouldn't hurt to invite them, either.
It's A Concert, Not A Party
One thing to bear in mind, a house concert is not the same as a party with a band playing. There's an expectation that guests are there to listen to the performers, not have conversations during the performance, throw horseshoes, do kegstands, or generally carry on as if they were at a party. It's also a good idea to not yell out "Freebird!"
Planning A House Concert In A Party Tent: The Basics.
The Tent.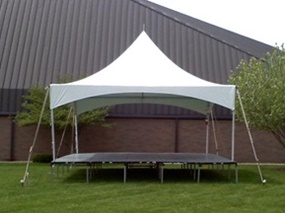 Assuming you have a performer lined up (this guy has some great information on booking talent), you're going to need a tent. We recommend one of our frame tents, since these have no internal poles to get in the way of seating or a stage. Speaking of the stage, you'll need one of these, too. We can rent everything from small, low-rise stages to a large, 36" high stage. More than likely, you'll be fine with a small stage.
Chairs and Tables.
You'll need chairs for your guests, and probably at least a few tables to set snacks and drinks on. Experienced house party hosts usually have a stockpile of folding chairs they've acquired at garage sales, but it's pretty inexpensive to rent a few dozen chairs. You can browse our selection of rental chairs and tables to see what strikes your fancy.
Lighting.
You're going to need some sort of lighting if your concert takes place after sundown. For a low budget, but very appealing solution, break out those small bulb white holiday lights and suspend them around the perimeter of the frame tent. If you need something brighter, we rent globe lights which can also be suspended around the perimeter of the tent or in specific areas where you need a little more light.
Sound System.
The performers usually have their own sound system, but there may be occasions when you'll need a basic PA system. A few mic stands and microphones, an amplifier and speakers will usually suffice for most acoustic duos.
Can You Make Money Hosting a House Concert?
Generally, no. Most people who host house concerts do it for the thrill of being able to see performers they like up close, and making money off a house concert is regarded by many as bad form. Since it is a private party, you cannot charge admission. You can, however, request donations for food and drink, and you can suggest how much attendees donate.
Opinions vary on the topic of donations. Some hosts maintain it's actually better to not specify a donation amount because no one's going to drop a $50 bill in the donation box if you specify a $20 donation. Incidentally, there's nearly universal consensus that it's better for donations to be taken after the concert.
Typically, the host will deduct the cost of food and drink from the money taken in and the rest of the take goes to the performer. If you're renting a tent and chairs, you can deduct that expense, too, of course. Usually, the host will provide a meal and lodging for the performer.
Obviously, the cost of renting a tent is going to raise your expected donation request. On the plus side, though, you'll be able to fit more guests in a tent than you will in a living room, so their donations should pay for the tent rental without adding much to the cost.
Need a tent for a house concert? Browse our selection of frame tents for rent in Madison, Bookfield and Milwaukee.
Madison Party Rental serves the Madison area and surrounding cities, including:

Cottage Grove, Dane, Deerfield, Dodgeville, Cambridge, Fitchburg, Fort Atkinson, Janesville, Kegonsa, Lake Mills, Middleton, Mt. Horeb, McFarland, New Glarus, Pine Bluff, Spring Green, Stoughton, Sun Prairie, Oregon, Paoli, Verona, Vermont, Waterloo, Waunakee, Whitewater, Wisconsin Dells

Brookfield Party Rental serves the greater Milwaukee area, including:

Brookfield, Bayview, Brown Deer, Delafield, Elm Grove, Fox Point, Franklin, Germantown, Glendale, Grafton, Greendale, Hales Corners, Lannon, Menomonee Falls, Mequon, New Berlin, Oconomowoc, Pewaukee, Port Washington, River Hills, St. Francis, Shorewood, Sussex, Wauwatosa, Whitefish Bay