Microweddings & Elopement Celebrations: When Less is Best
There's a growing trend away from lavish weddings in expensive venues. More often than not, couples planning a wedding today are opting for non-traditional ceremonies and locations. Interestingly, this trend is being propelled by two distinctly different groups: baby boomers and millennials.
Why Would You Not Want to Have a Big Wedding?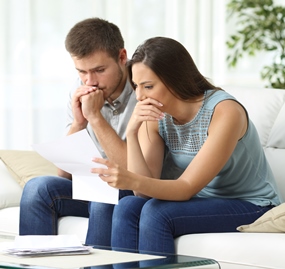 That fateful moment when you realize how much a traditional wedding is going to cost you.
There are plenty of reasons to opt out of large and lavish wedding receptions in fancy hotels and other indoor venues. If you're a baby boomer, chances are you've already been through a traditional style wedding and reception. "Been there, done that" just about sums it up. A smaller get-together with immediate family and friends just makes more sense than a big production.
Then there are the millennials. You're prone to questioning virtually everything, and the traditional wedding is right up there on the list of things you're not about to sign up for just because it's "how it's always been done." You're practical, too. And as a young couple starting out, it doesn't make sense to splurge on a grandiose wedding when you're saving for a house and, in most cases, still paying off student loans.
Big weddings are not only expensive ($20,000 on average), they're also stress-a-thons. Finding and renting a place to host the reception, choosing a catering company and a menu, deciding who to invite or not invite, figuring out how much to spend, and a million other decisions all turn what should be a happy time into a frenzied, exhausting chore that seemingly never ends.
And this is why microweddings and elopement celebrations are so popular now.
Why Event Tents are Perfect for Microweddings and Elopement Parties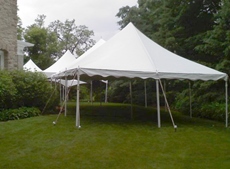 A line of high peak frame tents makes good use of an awkward space in this yard.
The term "microwedding" is pretty self-explanatory: a small wedding celebration. The most common type is a backyard wedding, although it can also take place in a park or some other outdoor location. The vibe is relaxed, dress is usually casual, and the cost reasonable. All of which makes a modest sized tent perfect for a microwedding.
Tents are also great for elopement celebrations. Keep in mind, modern day elopements aren't two star-crossed young lovers sneaking out their windows at night and driving a few towns south to get hitched. Equally less common are the Las Vegas drive-thru wedding chapel marriages. Today it's more likely to be a private ceremony on the beach. Usually, the couple has been living together for some time, so a big to-do with the bride being given away in matrimony by her father seems ridiculous.
Elopement celebrations can range from getting together with a few close friends/family for a dinner at a restaurant to a backyard party with friends and family members. It's usually a casual get-together, so a modestly-sized party tent is perfect. Frame tents and high-peak tents are perfect, since they're smaller than pole tents and have an open interior free of tent poles. You can really make use of every square foot under these tents.
Where to Rent a Tent for a Small Wedding or Elopement Celebration
You have two great options: Brookfield Party Rental just northwest of Milwaukee and Madison Party Rental in Madison. While all three locations offer a range of wedding tent packages based on the number of guests you'll be hosting, the smallest is our "Immediate Family" package, which includes a tent, tables and chairs for 72 guests. This is likely to be overkill for most microweddings and elopement parties, but don't despair. You can rent a smaller tent and add on whatever other rentals you need—tables and chairs, fans, china and flatware, etc.
For instance, our 10' x 10' High Peak frame tent is a great choice because they look great, are backyard-friendly, and two or more can be clustered together to create as large a covered area as you like. These also come in a larger 20' x 20' size. Or you can go with a 16' x 16' frame tent or a 20' x 30' frame tent. No matter how many guests you plan to invite or what size space you have to work with, we have a tent that's just the right size.
Need help figuring out what you need? Contact us at the location nearest you:
Madison Party Rental serves the Madison area and surrounding cities, including:

Cottage Grove, Dane, Deerfield, Dodgeville, Cambridge, Fitchburg, Fort Atkinson, Janesville, Kegonsa, Lake Mills, Middleton, Mt. Horeb, McFarland, New Glarus, Pine Bluff, Spring Green, Stoughton, Sun Prairie, Oregon, Paoli, Verona, Vermont, Waterloo, Waunakee, Whitewater, Wisconsin Dells

Brookfield Party Rental serves the greater Milwaukee area, including:

Brookfield, Bayview, Brown Deer, Delafield, Elm Grove, Fox Point, Franklin, Germantown, Glendale, Grafton, Greendale, Hales Corners, Lannon, Menomonee Falls, Mequon, New Berlin, Oconomowoc, Pewaukee, Port Washington, River Hills, St. Francis, Shorewood, Sussex, Wauwatosa, Whitefish Bay