30x40 Madison Frame Tent Rental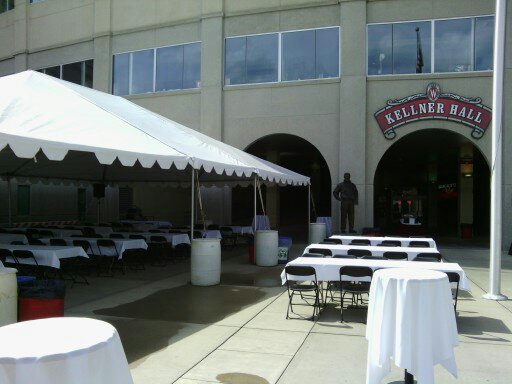 Frame Tent Rentals at UW Madison
Kellner Hall, the University of Wisconsin Madison Athletics Administrative Building, was the site of this homecoming weekend luncheon. In addition to the 30 x 40 frame tent, we also provided the banquet tables, folding chairs, and cabaret tables you see here, as well as the tablecloths and a large grill (not visible in this photo).
For a smaller event like this, held in clement weather, the frame tent is perfect. Since it doesn't require staking and guy lines to secure it in place, it can be set up on an asphalt or cement surface without any stakes and ropes for event attendees to trip over. For extra stability, we connected the poles along the perimeter of this tent to the large white trash cans you see in front of each of these poles. It's a simple way to add a little extra stability to the tent.
Whether you are planning a big event or a small one, our Madison Party Rental location has everything you might possibly need. As you can imagine, spring and summer are the busiest times of the year for us. If you are planning a big event, it's a good idea to make reservations well in advance of your event.
If you are in the Milwaukee area, be sure to check with Brookfield Party Rental.
Check the location nearest you for availability of frame tents for your event:
Brookfield Party Rental, 262-786-2666
Madison Party Rental, 608-221-3866