40x100 Madison Party Tent Rental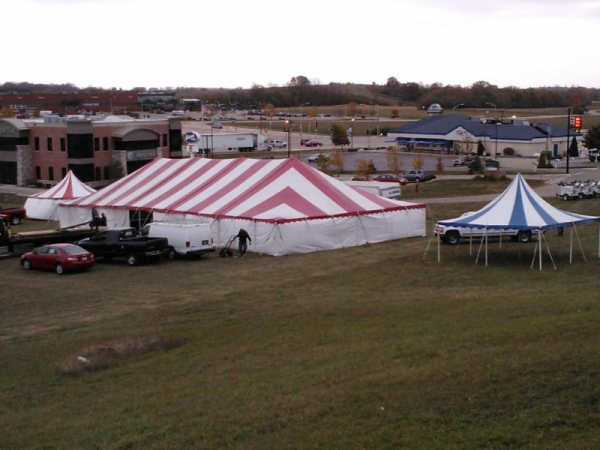 Striped Party Tents For Events Of All Kinds
There's nothing like the sight of big, striped party tents mushrooming out on the lawn. Passersby can't help but wonder what special event is going on and if it's open to the public. Add a couple of grills perfuming the air with the aromas of grilled meat and everyone within a 2 mile radius just might show up at your tent door.
This particular event was a Madison area polka society's annual picnic and polka bash. With Wisconsin's notoriously sketchy April weather, they needed a way keep everyone from fleeing if the skies unleashed a torrential downpour before the brats and kraut were served. Leave it to the pros at Madison Party Rental to make sure this party kept rocking.
Shown here is one of our large red and white striped canopy tents with solid sidewalls and two smaller pole tents, one in blue and white stripes and the other in red and white stripes. Even on a bleh Wisconsin day like this one, the colorful tents lent a festive atmosphere to the event rivaled only by the frenetic accordion work on the stage.
Unless you're planning to have your guests stage a sit-in on the ground, you will likely want to rent tables and chairs along with your tent, as well as a generator to power your sound system, lights, bouncy house and cotton candy machine.
Seriously, what kind of party would it be without a bouncy house and cotton candy?