Stage Rental In Wisconsin Dells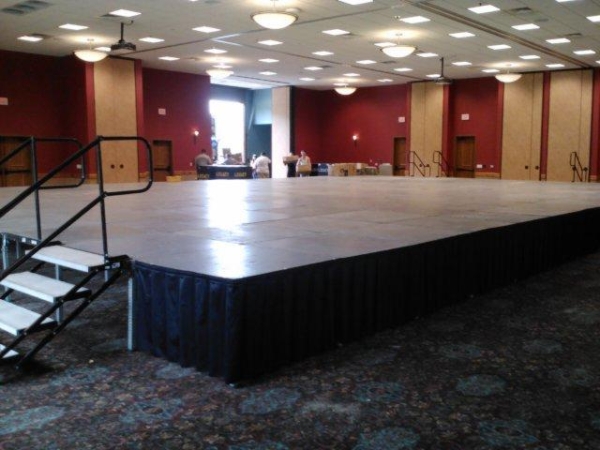 40ft x 60ft stage at The Wilderness Resort-WI Dells
Stage Rentals For Event At Resort In Wisconsin Dells
We often have corporate clients requesting stage rentals for events at conference centers and resorts around Wisconsin. In this case, the company had rented a large hall at a Wisconsin Dells resort and needed a stage big enough for a group of about 30 employees who would be participating in an awards ceremony.
As you can see, we provided them a beautiful stage with black skirting and steps with handrails to reach the 3' high platform. The flooring is stable and level—always a plus if you want to minimize the possibility of someone tripping on their way to the podium. This stage platform is sturdy enough to withstand even an energetic demonstration of clog dancing, or attempts at setting a world record for group jumping jacks. Whatever the event, we provide the best stage and dance floor rentals in Wisconsin.
If you need to rent a party tent for a wedding reception or other event, be sure to check out our event tent rental options.You can also choose from a variety of party tent rental packages for wedding receptions, graduation parties or events of your own creation. Simply choose the package which matches the number of guests you anticipate, then add on the stage platform of your choice through our "add-ons" section.
Contact our Wisconsin party tent rental pros at our Madison, Brookfield or Appleton location.