Stage Rental in Wisconsin Dells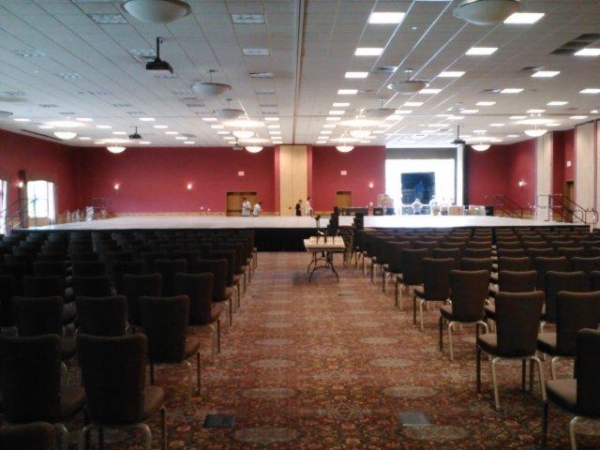 40ft x 60ft stage at The Wilderness Resort in Wisconsin Dells
Stage Rentals For Corporate Events, Graduations And Live Performances
We rent a variety of stage platforms for events of all kinds. In this case, a business was hosting their annual conference at a resort in Wisconsin Dells. They needed a large, elevated stage—large enough to hold 40 to 50 employees who would be receiving awards for their service and for a small band which would be performing after the ceremony.
This 40 ft x 60 ft stage you see in this photo was built with 4' by 4' sections on top of 3-foot risers to ensure everyone in the audience had a good view. Steps with handrails were mounted at either end of the stage to make sure no one tripped going up onto the stage or heading down off it. The client also opted for black skirting along the base of the stage, which we highly recommend for a more finished look (especially at indoor events!).
Whether you need just a small platform and a podium for the best man to give a speech at a wedding reception or a stage large enough for a high school graduation ceremony, our Madison, Fox Cities or Brookfield Party Rental stores can provide a solution for any occasion. If you need help sorting through the options available, one of our rental agents will be glad to assist. Feel free to contact us with any questions you may have.
Learn more about our Wisconsin stage and dance floor rentals options.