60x150 Wedding Tent Rental in Milwaukee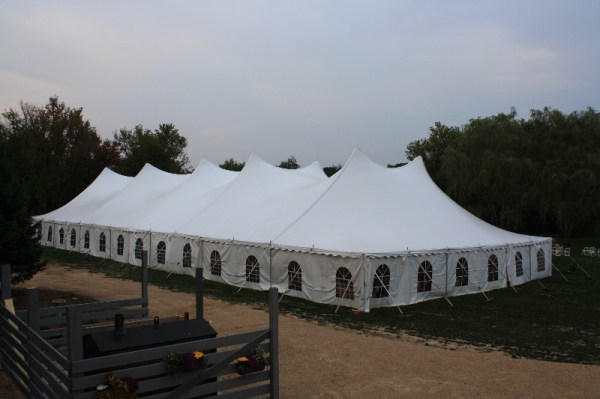 Milwaukee Wedding Tent Rentals For Nuptials Large or Small
Wedding receptions come in all sizes, from intimate backyard events for 20 or 30 friends and relatives to grandiose productions with hundreds in attendance. The white wedding tent shown above was obviously for one of those larger receptions.
This tension style tent is large enough to accommodate anywhere from 550 to 650 guests, depending on the tables you choose and how you have them configured. If you rent a dance floor, this will also impact how many guests can fit inside a tent. This 60' by 150' tent is one of the largest tents we offer. You really need to have a big family and a lot of friends for a tent of this size. On the other hand, if you're planning on hiring a circus to perform at your reception, you'd certainly need a tent of this size.
As you can see in the photo, this particular tension style tent has been set up with optional sidewalls with clear vinyl windows. Sidewalls are a great way to keep cold winds, rain, bugs and even uninvited guests from getting into your event. It's also a good way to keep your guests from wandering outside of the tent and tripping over the support wires.
Whatever size wedding reception you're planning, you'll find just the right tent style and size here. Our online planning guide is a great place to start when choosing a tent. You can also check out our wedding reception packages, which are all based on the number of guests you'll have.
If you need help sorting it all out, our rental agents will be glad to assist.Feel free to contact us with any questions you may have, either online or by phone.
Contact our Wisconsin event tent rental professionals for more information or to order your tent.