Brookfield Church Festival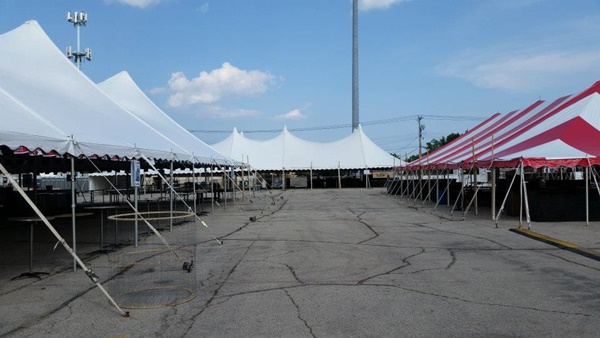 Party Tents For Brookfield Parish Festival
Every summer, churches all over Milwaukee hold festivals. The tents in this church's parking lot were supplied by our Brookfield Party Rental store. What you see here are some of our larger, tension style tents. The one in the background looks to be a 40' x 100' tent with a solid curtain wall on the left end forming a backdrop for the stage that was set up there.
Although we usually set these tents up on grass, they can obviously be set up on pavement as well. This involves drilling a pilot hole for the tent pegs, however. After the peg is secured in the pavement, the resulting hole is about an inch to an inch-and-a-half in diameter. When the pegs are removed, these holes can be filled with gravel and asphalt.
Our Brookfield tent rental location provides both large and small party and event tents throughout the greater Milwaukee area and all of southeast Wisconsin. In addition to tents, we also rent tables and chairs (notice the cocktail tables under the tent to the left), catering equipment, stages, A/V equipment, concession food equipment, heaters, fans, and just about everything else you might need for your event. Check our party tent rental products pages to view our complete inventory.