Brookfield Wedding Tent Rental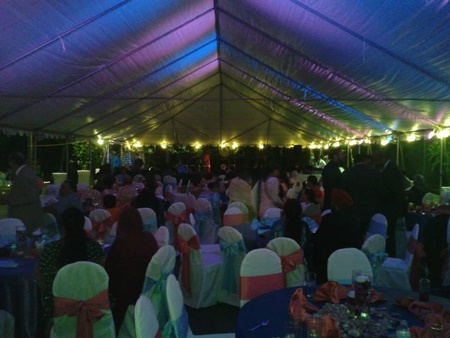 Tental Rental for Wedding Receptions Made Easy
We set up this 40 x 120 frame tent for a Brookfield wedding reception that ran into the wee hours of the morning. Notice the purple and blue lights on the roof of the tent, courtesy of our LED PAR lights. You can also see a string of globe lights along the back and right side of the tent—perfect for lighting up the buffet area.
Whether you're planning a small or large wedding reception, we have a party tent just right for the number of guests you'll be hosting. We also rent chairs and tables, food and drink service equipment, dance floor, lighting and wedding décor—pretty much everything you'll need for the big occasion. Even rollaway beds for the guests who indulge in a few too many glasses of bubbly.
Brookfield Party Rental has been in the event rental business for over 40 years and now has locations in Madison and Appleton. So, what's the secret of our success? It's simple: To make every customer's special occasion truly memorable. Check out our customer testimonials to see what others have to say about their experiences with us.