Waukesha University Graduation Chair & Tent Rentals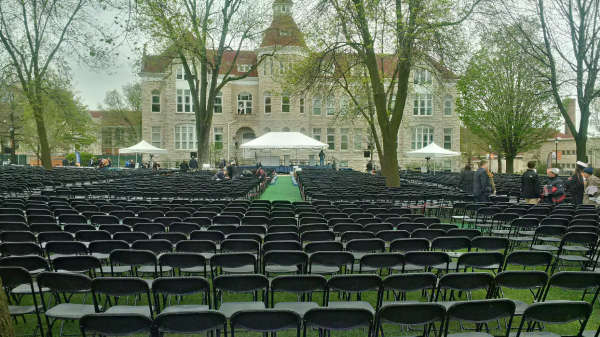 Tents & Chairs for College Graduation Festivities
Here's what a graduation ceremony looks like before the throngs of graduates, their families and assorted well-wishers arrive. You're looking at a sea of black, Samsonite folding chairs in front of a large stage we assembled on a 3' riser. The commencement speaker's podium was not yet in place when this photo was taken, but we most certainly rent podiums for events of all kinds.
Although you cannot see it in this picture, we provided a large party tent rental for a luncheon event held after the graduation ceremony--as well as banquet tables, catering equipment and, of course, even more chairs.
Whether you're planning an event requiring seating for 2,500 or something more modest, like a wedding reception for family and friends, we have everything to make your gathering a rousing success. From little things like table linens to bigger things like bounce house rentals, our Brookfield, Madison and Appleton party rental stores have it covered. Both literally and figuratively. Trust us for rental equipment for your next graduation ceremony or party.
Contact our Brookfield Party Rental location online for more information on graduation rentals.