Frame Tent at Wauwatosa Festival Secured with Concrete Anchors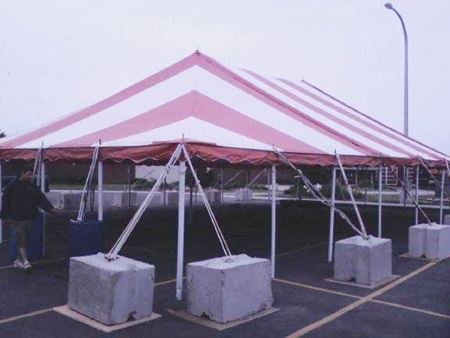 Frame Tent at Wauwatosa Festival Secured Against Heavy Winds with Concrete Anchors
It was supposed to be a spring festival, but you know how the weather is here in Wisconsin. On this particular day, strong winds from the east and a mall parking lot management company that didn't want to have holes drilled in their lot to anchor the tents necessitated a Plan B. That's "B" as in blocks of concrete.
With blocks this size, these frame tents weren't going anywhere—even with wind gusts up to 35 mph. As you can see, though, concrete blocks of this size take up a lot more space than the metal stakes we usually use to anchor a tent. Although using stakes on an asphalt parking lot leaves holes about a foot deep and a couple inches in diameter, they're pretty easily filled in with gravel and then sealed with asphalt. However, if the parking lot owner doesn't want to deal with this, we can use concrete blocks or barrels filled with sand (or water) to secure a tent.
Whether you're planning a large festival or a small outdoor gathering with a few friends, our Wisconsin party rental stores have a tent for events of all sizes.
Contact our Milwaukee area party tent rental specialists with any questions you may have about renting an event tent.