Dance Floor Set Up For Oak Creek Reception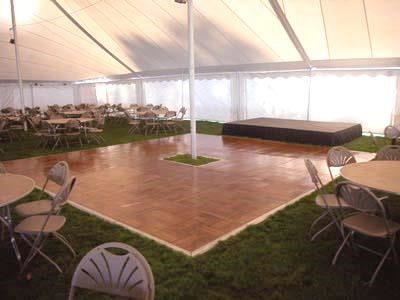 Dance Floor Under 60' by 40' Party Tent Rental in Oak Creek
Here's a great example of how to set up a dance floor around the support pole of a canopy tent. Instead of trying to squeeze the dance floor in the space in-between the support poles, we built it around a support pole. This way there's more space for the tables and chairs around the dance floor—which is where you really need the open space.
Notice that black rectangular thing behind the dance floor? That's a stage with a black skirt around the perimeter. A string quartet set up there for this event. Although this stage only sat a foot above the ground, we can set up stages as high as 36". If you're going to go any higher than a foot, though, you really need to rent steps and a railing to keep your performers or guests from falling while getting on or off the stage.
We can build a dance floor for just about any size of event. The one you see here is pieced together from 3' by 4' oak parquet panels. We also have an indoor/outdoor dance floor, which uses vinyl tiles so it won't get ruined by a sudden downpour. Whatever kind of event you're hosting, we can put together a dance floor for it.
Contact our Wisconsin event rental pros for assistance figuring out what size dance floor to rent.