Elm Grove Stage Rental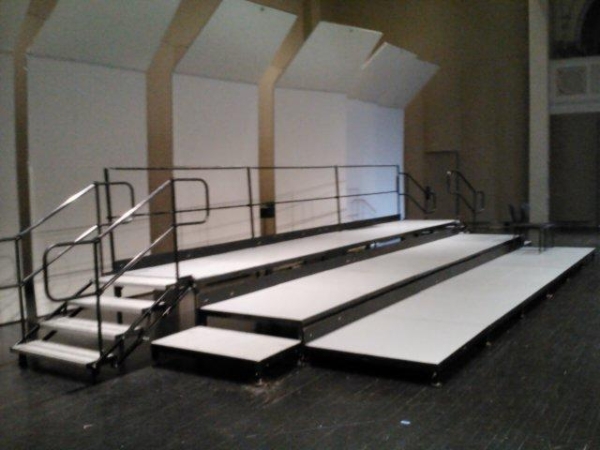 Stage Rental For Concert
Around the holidays, the village of Elm Grove hosted a choir recital with Christmas music. Our Brookfield Party Rental location was contacted to rent a stage for the performers. This 3-tiered, low-rise stage with white 10-ft. acoustical panels is what we put together for them.
In addition to the three riser platforms, we provided a set of steps at either end of the stage for access to the higher platform in back. To ensure the safety of the performers, we connected handrails and a back rail. Although you cannot see it in this photo, the white panels in back were illuminated with changing colors of light through the use of multi-colored LED lighting placed under the highest platform. The result was stunning.
If you are planning an event that requires a stage, or even just a modest riser, our Milwaukee event rental specialists can definitely help. In addition to stages and risers, we also rent podiums, audio/video equipment and tables and chairs for corporate events, concerts and other events. Browse our products online, and feel free to contact us if you have any questions or need help figuring out what you should rent. We're here to help!
Contact our Milwaukee event rental store with your questions or to make a reservation for your event.